Bibi Hanim Mosque, Samarkand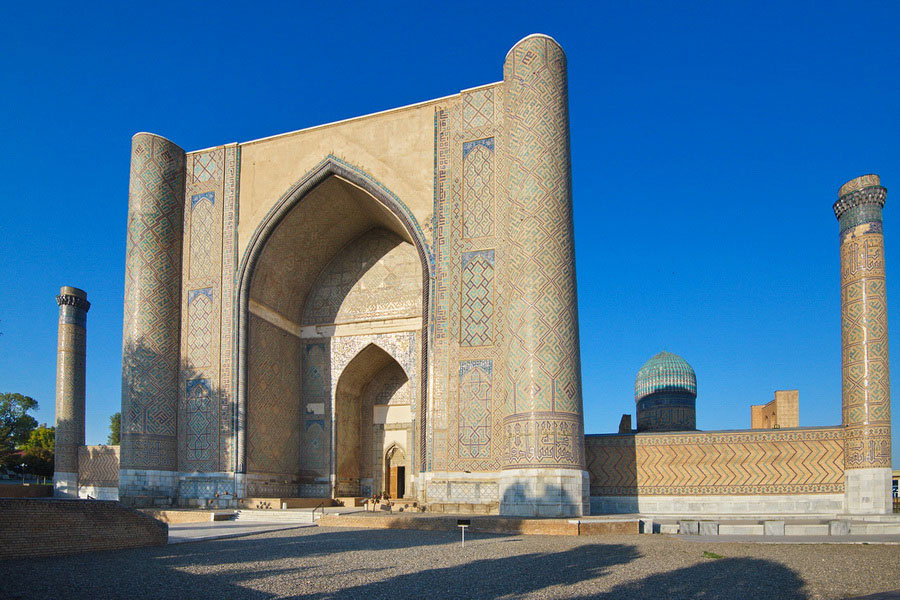 The majestic blue domes of the Bibi-Khanym Mosque are the unusual sight. It takes one's breath even from understanding the scale of construction of this monument, impressing with its size and beauty. In antiquity the dome of this mosque was compared with the dome of heaven and the arch of portal – with the Milky Way.
As well as all Samarkand monuments the Bibi Khanym Mosque also has the beautiful legend. According to it, the formidable ruler built the mosque in honor of his favorite wife Bibi Khanym. After successful campaign to India Temur decided to build the biggest building of the East – the mosque – which should have exceeded all mosques of the world by its size. Sparkling walls, high minarets, wide portal of the mosque, decorated with carved marble, must have praised for centuries the name of Temur and his favorite wife.
Hundreds of architects, painters and builders were taken to Samarkand. The construction lasted for 5 years (1399-1404) and when Temur came back from another campaign it was ready-built. The yard of the mosque was surrounded by luxurious galleries, the arches of which lied on more than three hundred marble columns, minarets towered on each side of it.
Unfortunately soon after the completion of the construction, when the mosque became the place of ceremonial acts of worships, the building began collapsing. The idea of the creator to build such magnificent building was too bold for that period. The majestic arch of the portal, which according to Tamerlane's plan should have repeated the Milky Way, could not withstand the test of time and had collapsed in the very first years after the construction.