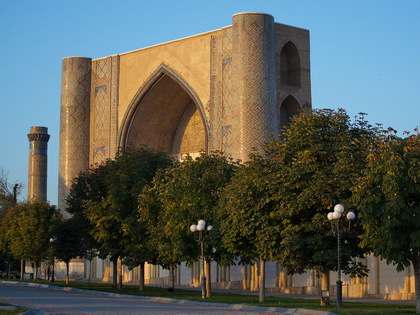 A two-day Samarkand tour will show you not only the city's main attractions, but also significant historical monuments in its vicinity. You will visit the ancient site of Afrasiab, see the production process for Samarkand paper by ancient technology before your eyes, and visit the Saint Daniel tomb - an unusual place, shrouded in legends and hypotheses.
Our guide and driver will meet you at your hotel in Samarkand. The tour begins with a visit to
Ulugbek Observatory
, where part of the XV c. sextant is preserved. Continue to
Shakhi-Zinda Necropolis
and remains of
Bibi-Khanum Mosque
. Walking on the alley with souvenir shops you will reach the spectacular
Registan Square
which has been the center of Samarkand for many centuries. During sightseeing you will have a chance to visit colorful
Siab bazaar
with stalls full of oriental sweets, local fruits and variety of freshly baked traditional breads. The last point of interest to be visited is
Gur-Emir Mausoleum
– authentic shrine of Tamerlane.
Duration of sightseeing tour: 6-7 hours
Guided sightseeing tour;
Entrance fees to the museums, mausoleums and other sights;
Transport throughout the city tour.
Full board (lunch and dinner);
Hotel accommodation;
Travel insurance.