Silk Road Samarkand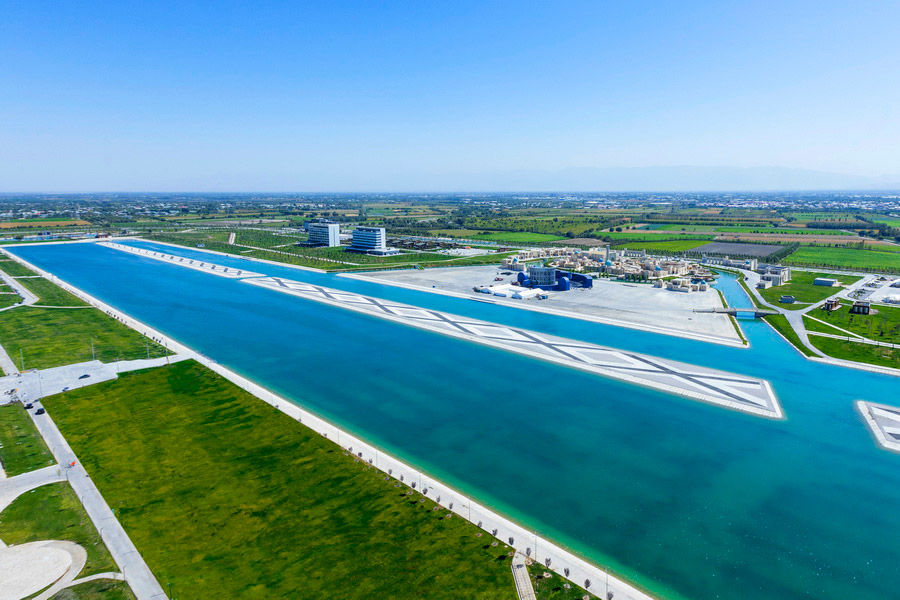 Silk Road Samarkand is a modern multiplex which is set to open in early 2022 in eastern Samarkand. The complex covers 260 hectares and includes world-class business and medical hotels, eateries, recreational facilities, park grounds, an ethnographic corner and a large congress hall for hosting international events.
For centuries, Samarkand was among the most renowned cities on the Great Silk Road, attracting merchants, travelers and adventurers from far and wide. The Silk Road Samarkand project was developed by a team of designers, engineers and architects who desired to create a 21st-century landmark which would be functional and modern while retaining a connection with the city's glorious past. The team is on target to achieve their goal, as the complex is designed to attract everyone from corporate and medical travelers to tourists interested in Turkic and Islamic culture.
A central feature of Silk Road Samarkand is the 2-kilometer-long channel which divides the complex into northern and southern sections. The water brings a cool freshness to the desert climate while beautifully mirroring the surrounding structures. This artificial channel has served as a training base for Uzbekistan's athletic rowing crews for decades and will retain this function in the new tourist center so that guests can watch the canoes and kayaks as they pass by.
The northern part of the Samarkand tourist complex includes International Congress Hall and four hotels: the five-star Samarkand Regency Amir Timur and Silk Road by Minyoun and the four-star Savitsky Plaza and Stars of Ulugbek. All of the hotels include restaurants, bars, fitness centers, swimming pools and conference rooms. Congress Hall, which is able to host up to 3,500 people, also has a banquet hall with a capacity for 750 guests and an exhibition area covering 10,000 square meters.
The southern part of the complex has been designed for recreation and medical treatment. There are four hotels geared for guests seeking 7-14 days of preventive and respiratory treatments, detoxification and spine and joint care. Each hotel has entire floors allocated for wellness centers where massages, therapeutic showers, saunas, pressure chambers, mud treatments and more are available to guests.
Along with the medical hotels, the southern side also includes:
an eco-village featuring cottages for a secluded stay;
Eternal City, a historical and ethnographic project with craft workshops, quaint streets, small shops and other features of a traditional eastern city;
Volcano Aqua Zone, including a swimming pool, cafes, a park, sports grounds, bike rentals and other entertainment options.
The location of the new complex could not be more ideal, being a 15-minute drive from Samarkand International Airport, 20 minutes from other key sights of Samarkand and 25 minutes from the train station. Regular shuttle services are also slated to run between the complex and major city points.
With its luxury hotels, pleasant layout and wide variety of activities, Silk Road Samarkand is sure to become one of Uzbekistan's major centers of modern tourism.