Chorsu Bazaar, Tashkent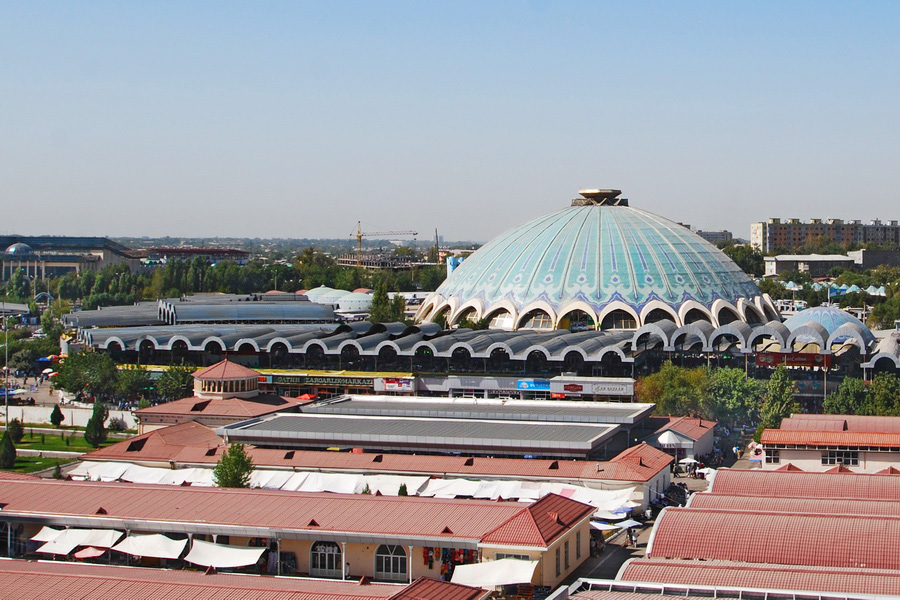 Bazaar is the heart of every oriental city, the center of public life, breadwinner of the whole city. Since the dawn of time bazaars appeared on the intersections of trade roads, on big squares of cities. They played role of main places of the city, where merchants, traders and common people gathered to discuss important news, to know prices, to have a rest in cozy choykhana (Uzbek café) eating pilaf and drinking green tea. Also bazaars were the places of main entertaining events of the city – theatrical performances.
Tashkent Bazaar Chorsu, the age of which is more than hundred years, also was always located on the main square of the city Eski-Juva. Old bazaar constructions destroyed and went bad, but the traditional architecture remained unchanged – domed large premises. This was the only way to protect oneself from heat and dust in terms of hot and dry Asian climate.
The tendency of construction of such bazaars with a complex of covered premises began in XI century and went on up to XIII century. In our century this bazaar inherited land and premises of previous centuries. The modern trade complex is built with a glance of architectural features and traditions of urban development of previous epochs. Today it is the unique complex of trade halls crowned with interrelated blue domes. The central part of bazaar is the main magnificent domed construction, patterned with oriental ornament, with diameter of nearly 300-350 meters. It is the winter three-storey building of bazaar with elevator system. The lowest storey is basement passages with numerous back rooms. Middle and upper floors are the system of shops.
On counters of this oriental Bazaar you will find fresh fruits, amber-colored dried fruits, toasted bread (lepeshka), fresh-killed meat, kazy (horse meat sausage), and what not… And all these things are so attractive that one can't stand to pass by them. Next to bazaar there are choykhonas, where you can taste amber yellow pilaf, fragrant shashlyk (grilled meat), hot shurpa (soup). Refreshing yourself you can go to handicraft shops, where masters of applied art sell hand-made souvenirs.