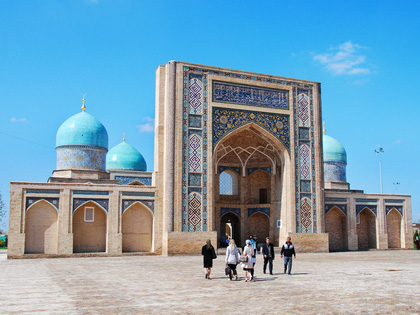 Tashkent, the captivating capital of Uzbekistan, offers a mesmerizing blend of modern metropolitan vibes and the unique charm of an eastern city. As you wander through its streets, you'll encounter elegant European structures from the Turkestan Governorate General era, imposing Soviet-era buildings, the blue domes of mosques and madrasas, and the dazzling facades of contemporary architecture. The Tashkent City Tour is the ultimate experience for immersing yourself in the rich history and intriguing landmarks of this vibrant capital.
Tour itinerary:
Your knowledgeable guide and driver will meet you at your hotel in Tashkent, marking the beginning of your exciting Tashkent city tour. Venture into the Old City section of Tashkent to visit the historic Khast-Imam Complex, home to the world-renowned Quran of Caliph Uthman – Ottoman. Within the complex, explore the Barak-Khan Madrasah, Tillya-Sheykh Mosque, the Mausoleum of Saint Abu Bakr Kaffal Shashi, and the Islamic Institute of Imam al-Bukhari.

Next, immerse yourself in the bustling atmosphere of Chorsu Bazaar, a true eastern marketplace. Continue your journey with a ride on Tashkent's Metro, renowned as one of the most beautiful metro systems in the world, to the city center. Visit the Applied Arts Museum and stroll through Navoi Theater to reach Amir Timur Square, where your captivating Tashkent City Tour comes to an end.
Duration of sightseeing tour: 5-6 hours
Price includes:
Guided sightseeing tour;
Entrance fees to the museums, mausoleums and other sights;
Transport throughout the city tour.