State Museum of History of Uzbekistan, Tashkent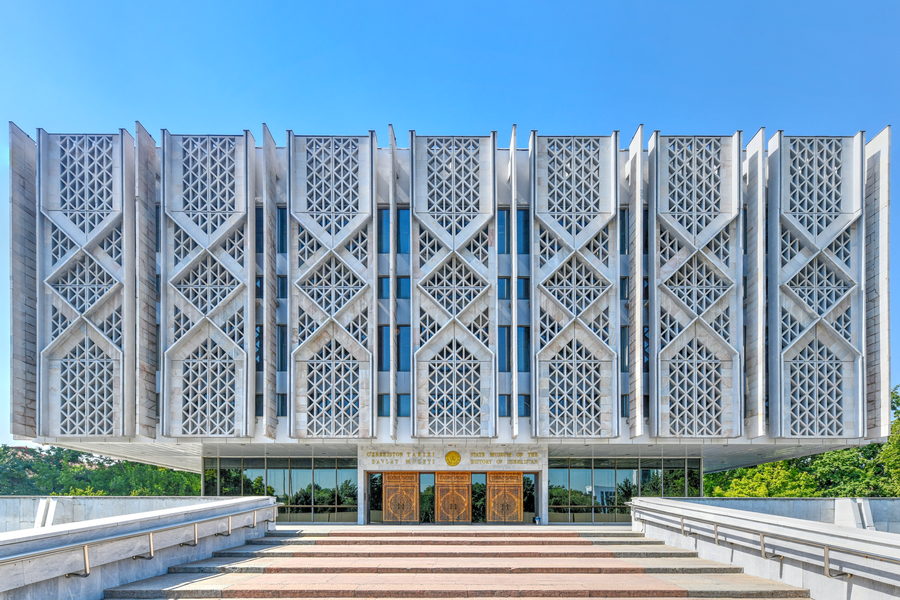 Address: 3, Rashidov Avenue, Tashkent
Phone: (+99871) 239-17-79, 239-17-78, 239-10-83
Working hours: from 10:00 a.m. to 05:00 p.m. (w/o lunch)
Closed: on Monday
Web site: www.historymuseum.uz
State museum of history of Uzbekistan, one of the oldest museums of the Central Asia, was founded 136 years ago. The museum fund lists over 250,000 exhibits, including over 60,000 archeological, over 80,000 numismatic and 16,000 ethnographical items reflecting Uzbek history from the primitive times up to the present.
There are 4 floors in the museum. The first floor hosts an exhibition gallery for modern exhibitions of various themes held periodically. The exhibits on the second floor tell the history of Uzbekistan from the ancient times up to the Timurid era. Here you can see first tools, mirrors, jewellery, household items extending back over 1,000 years, as well as exponents of mediaeval epoch in the Central Asia, an evidence of flourishing of science, poetry, trade at that time.
Unique museum exhibits include remains of a primitive man from the Sel-Ungur cave (1.5 million years B.C.); stone sculpture of two snakes found on the territory of the Fergana valley (2nd millennium B.C.); décor of the Bukhara governors' palace of 6th -8th centuries; fragments of 7th - 8th century mural painting found in Afrosiab settlement; 10th century carved wooden column from Oburdon village.
Special place of the exposition is taken by the artifacts related to Buddhist period the Uzbek history. The "Triad" – an ancient statue of Buddha with two monks (1-4th centuries BC) and other findings discovered in 1969 in Fayaz-Tepa Buddhist temple complex stand in.
Museum numismatic collections are extremely valuable. They include money coined as far back as in 5th century BC to the 19th century. Coins of the Akhaemenids, Alexander the Great, Selevkids, Greek-Bactrian kings, Kushan, Khoresm, Sogd, Chach are presented in the collection. Besides there are coins of mediaeval dynasties: Takhirids, Samanids, Karakhanids, Chingizids, Genghis khan clan, Timurids, etc.
The third floor is occupied with exponents of the period of three khanates of Uzbekistan history when its territory was divided between three biggest feudal states: Khiva, Kokand and Bukhara emirate.
The fourth floor exhibition illustrates the newest history of 19th-20th centuries. There are magazines and newspapers of Jadists, first theatre bills, films and photos; there is a collection of medals of Uzbek champions won at different time in kurash, wrestling and tennis.
There is a gift shop under the museum where one can buy items of Uzbek applied arts: embroidery, carpets, miniatures and ceramics.
Museum of History of Uzbekistan - Photos: