Chapel near the Kamolon gates, Tashkent
Orthodox chapel at the Kamolon gates of Tashkent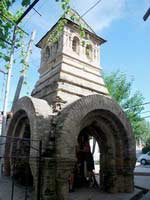 A small dilapidated chapel is located in a residential makhalla near the place where in ancient times stood Kamolon gates of Tashkent. (Not far from the present Khalklar Dustligi avenue, Samarkand-Darboza street and Aktepa channel). Today it is the oldest monument of pre-revolutionary Orthodox confession in Tashkent.
A chapel was built in 1866 on the common grave of 24 ordinary Russian soldiers killed during the attack of Tashkent under the command of General Chernyaev in June 1865.
A place for the mass grave was not chosen by chance. There used to be and still is an ancient Muslim cemetery Kamolon. The memorial was set between the Kamolon gates and Muslim cemetery, almost at its foot.
In 1865, a tombstone with the inscription "To ours friends" ("Za drugi svoya" in Russian) was set over a mass grave, and a monument- three pyramids of mortar cannon balls were erected. A year later, a chapel was built, which in the Orthodox tradition was decorated with Slavic inscriptions from the Old and New Testaments.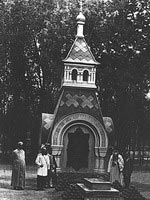 There was a prism in the middle of the chapel with an icon on the one side, an inscription from the Testament on the other side and the names of dead soldiers on the other. A small park was laid out here with the church entrance, crosses and artistic iron fence. People with disabilities (they called so war veterans) were paid to look after the memorial and the small park. Each year, on 15 June, the day when Tashkent was seized, here and further along the main streets of pre-revolutionary Tashkent strode the solemn procession with banners and church hymns.
The complex existed until 1917. In 1917 there was the October Revolution, a memorial park and the memorial were destroyed by the Bolsheviks. After the World War II (1941-1945), in 1949, a plot of land with the memorial was assigned for the possession by ordinary Uzbek family that built a house in its place. The dilapidated chapel remained behind its gates in the street, it still takes the tourists.