Uzbekistan Tourism Packages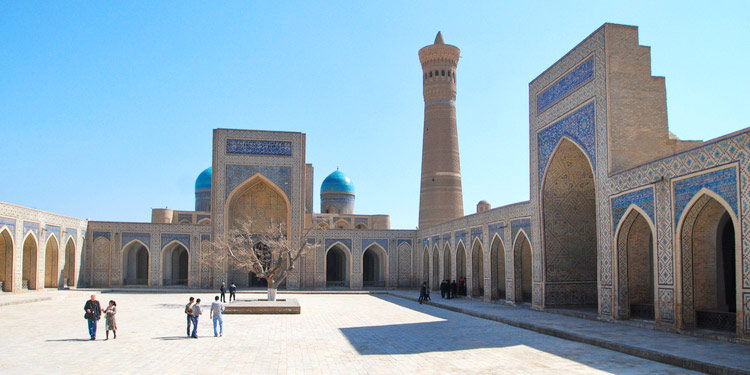 Uzbekistan tourism packages are a key to unlocking the treasures of this ancient caravan country, hailed by leading travel experts as a top destination.
Our assorted tour itineraries have been specially designed to help you plan your trip to this popular Central Asian destination. Each tour package reflects feedback from our previous customers and the latest developments in Uzbekistan tourism.
If this is your first time to consider a package tour, rest assured that there are a few things you can expect to find on every trip:
Personalized Service – When you decide to join a group tour or to travel on a pre-arranged itinerary, you'll be put in touch with a knowledgeable travel agent who will work with you right up to the end of your tour.
Flexibility – Consider each tour package a blueprint for your perfect vacation: all the hard work of planning and designing an unforgettable trip has been handed to you, and now you get to fine-tune it according to your preferences.
Opportunities for Independent Discovery – Our tour packages provide the framework for your unique Uzbekistan adventure. With the details of where, when and how taken care of in advance, you can relax on your holiday and focus on the experiences that cross your path along the way.
Both group and private tour packages to Uzbekistan are available, and each offers unique advantages for travelers.
Uzbekistan Group Tour Packages
Our small group tours continue to grow in popularity each year. Indeed, with their guaranteed departure dates, intentional small group size and low-cost, adventure-packed itineraries, what's not to like?
A cost-efficient option for travelers on a budget, group tours allow you to share cost of Uzbekistan tourism packages with your fellow travelers, giving you all the benefits of a well-structured trip while cutting back on prices normally incurred on guided tours.
Uzbekistan group tours are offered year-round and have guaranteed departure dates, meaning that once you've registered for a tour you can be certain it will leave as scheduled. Plus, the number of other participants will in no way affect the tour price.
Group tours add an element of fun to your journey, allowing you to create memories of a lifetime with new friends who share your sense of adventure and appreciation for out-of-the-way destinations. Our group tours have a maximum cap of 12-16 people to insure for ease of travel and sufficient space for personal exploration along the way.
Check out our Uzbekistan group tours for more itineraries and book from over a dozen guaranteed departure dates.
Uzbekistan Private Tour Packages
Despite the rapid growth in group tourism, our private Uzbekistan tourism packages continue to be our best sellers. But let us warn you - with dozens of private Uzbekistan tours available year-round, you may have a hard time selecting only one!
Private excursions allow for creativity, flexibility and choice throughout the journey. These escorted tours of Uzbekistan have open start dates and itineraries that can be altered to suit your personal preferences, ensuring that your once-in-a-lifetime journey lives up to all that you've dreamed it would be.
Private tours are the perfect balance between structure and freedom. Not only can you be confident that you won't miss out on must-see sites, you can be sure you'll get an insider's perspective when visiting. At the same time, a private tour package gives you freedom to interact with the culture.
If you like the idea of a private guided tour but can't quite find what you're looking for among our tour itineraries, Advantour is happy to put together a package especially for you.
Follow Uzbekistan private tours to get more travel ideas for custom trips.