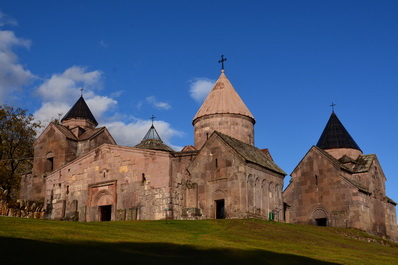 Armenia is a country rich for its sightseeings. To see all the treasures, one week is not enough, but even in this one-day tour to Dilijan, Tsaghkadzor, and Lake Sevan it is possible to touch the placer of diamonds stretching from Yerevan to the north-east of the country. You will have an opportunity to visit not only the monuments of the medieval architecture of Armenia but also the main pearl of the land – the mountain Lake Sevan.
Tour itinerary:
A picturesque trip to the Lake Sevan starts from Yerevan; you will be picked up at the hotel and driven to Tsaghkadzor city, which means the Gorge of Flowers. Here you will enjoy the Kecharis monastery – a large religious center of the 11th - 13th centuries with its own school. The complex reflects classy Armenian medieval architecture. It was ruled and supported by the academicians and politicians, who paid special attention to the splendid decoration of interiors. The monastery vicinities are rich in graceful khachkars and tombstones.
A short stop at the Lake Sevan to enjoy "The Jewel of Armenia" or the "Geghama Sea" which is one of the largest high-mountainous fresh water lakes in the world.
The next milestone is Dilijan, the most famous tourist spot where you will see the monastery complexes of Goshavank and Haghartsin.
Goshavank will tell you how a medieval major university with its own library in Armenia was alike. The monastic complex of Goshavank is the best place to explore "khachkars" - Armenian cross-stones.
Haghartsin is a monastery, construction of which took three centuries (10-13 c.c.). The place was famous for eagle games as reflected in its name - "Hagh" means a game while "Artsin" a form of "Artsiv" means eagle in Armenian. End of tour to Dilijan, Tsaghkadzor, and Lake Sevan.
Duration: 8 hours (~290 km, 4 hours on road)
Price includes:
Transportation;
Service of guide;
Bottled drinking water;
Entrance fees to sights as per itinerary.
Price doesn't include:
Meals;
Personal travel insurance.