Armenian Khachkars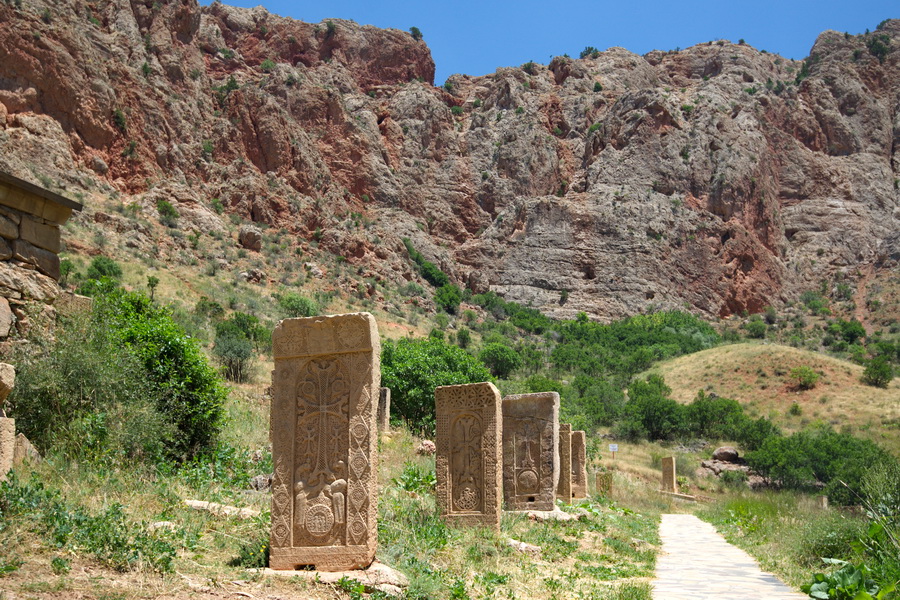 Armenian khachkars are unique cross-stone monuments which have become synonymous with the country itself, for they are carved only by national craftsmen and members of the Armenian diaspora.
Khachkars serve as memorial stones, religious emblems and national symbols of Armenia. Their distinguishing feature is a cross surmounting a rosette and elaborate, decorative patterns which cover the remainder of the stone surface. It was originally believed that the Armenian crosses could provide protection from national disasters and bring salvation to the soul of a living or deceased person They were also used to commemorate a military victory or the construction of a church. Although khachkars were commonly erected in graveyards, they rarely served as actual gravestones.
The first Armenian cross khachkars as we know them today appeared in the 9th century. The oldest surviving one stands in Garni and is carved with an inscription dedicating it to queen Katranide I, the wife of King Ashot I Bagratuni, in the year 879. The art of khachkar carving reached its peak between the 12th-14th centuries. It subsequently declined during the Mongol invasion, only to be revied in the following centuries. Today this unique form of Armenian art continues, and khachkar carvers, called varpets, can still be found in Armenia.
Around 40,000 historical Armenian khachkars exist in the country today, with the most extensive surviving collection found at Noraduz Cemetery near Lake Sevan. The Noraduz khachkars total around 900 diverse pieces from various historical eras. Many excellent examples of khachkars are also on display in Yerevan History Museum and at Etchmiadzin Cathedral. Outside of Armenia, khachkars can be seen in the British Museum, Metropolitan Museum of Art and the National Museum of Ethnology in Osaka.