Public Holidays in Azerbaijan
1 January - New Year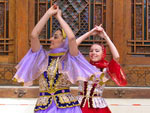 20 January - Martyrs' Day
2 February - Day of Youth
26 February - Day of Remembrance for Victims of Khojaly massacre
8 March - International Women's Day
21 March - Novruz Bairam
9 May - Victory Day
28 May - Day of Republic
15 June - Day of National Salvation
26 June - Day of National Army
15 September - Day of Knowledge
20 September - Day of Azerbaijani oil
18 October - Independence Day
12 November - Constitution Day
17 November - Day of National Revival
31 December - International Solidarity Day of Azerbaijanis
Religious holidays – Ramazan Bairam, Gurban Bairam.
Main Azerbaijan Holidays
Azerbaijan is a multinational country with its ancient traditions where holidays play a very significant role in the people's life. Furthermore, when Azerbaijan obtained the independence it established new memorable days and dates which became public holidays of the country. All the holidays in Azerbaijan can be divided into national, professional and religious ones.
The national holidays are official days-off in the country. They are as follows: New Year, International Women's Day, Victory Day, Republic Day, National Salvation Day, Azerbaijan Armed Forces Day, International Solidarity Day of Azerbaijanis.

It should be noted that Independence Day of Azerbaijan, Constitution Day and National Revival Day though holidays are still working days.
Out of religious holidays of Azerbaijan, Kurban Bayram (a feast of sacrifice), Ramazan Bayram (a holiday after fasting), Novruz Bayram should be specially noted. Novruz is a holiday of the nature renewal and fertility. It is observed in Azerbaijan from ancient times, when its population professed Zoroastrianism. Religious holidays in Azerbaijan are public holidays and celebrated several days. Novruz is officially celebrated from 21 to 24 March.
In addition to the holidays, Azerbaijan also observes memorable days such as Martyrs' Day, which is also a public holiday. Besides them, memorable days of special importance for Azerbaijan are: Day of Youth in Azerbaijan, Day of Remembrance for Victims of Khojaly massacre, Day of Knowledge, Day of Azerbaijani oil etc.
Azerbaijan holidays are celebrated in the bosom of relatives and friends. Public open air celebrations are held and fireworks are let off during the days of the national holidays.