Top 10 Things to Do in Azerbaijan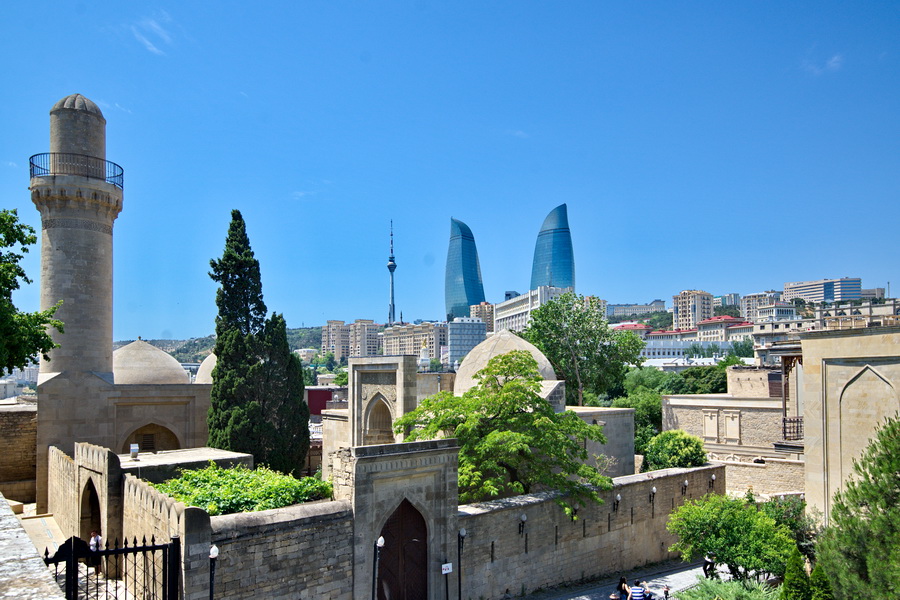 Azerbaijan's naturally burning flames and Zoroastrian roots may have inspired the country's nickname as "Land of Fire", but the term is descriptive of far more than natural gas reserves. The fierce and fiery spirit of the Azerbaijani people is evidenced in their colorful palaces, stubbornly enduring landmarks, imaginative legends and influential leaders who left their mark on history.
Travelers in Azerbaijan will discover hundreds of activities, foods, people and places which are sure to broaden your horizons. We realize this may seem overwhelming and so have narrowed the list down to our pick of Top 10 Things to Do in Azerbaijan.
1. Listen to a singing stone in Gobustan (Land of Ravines)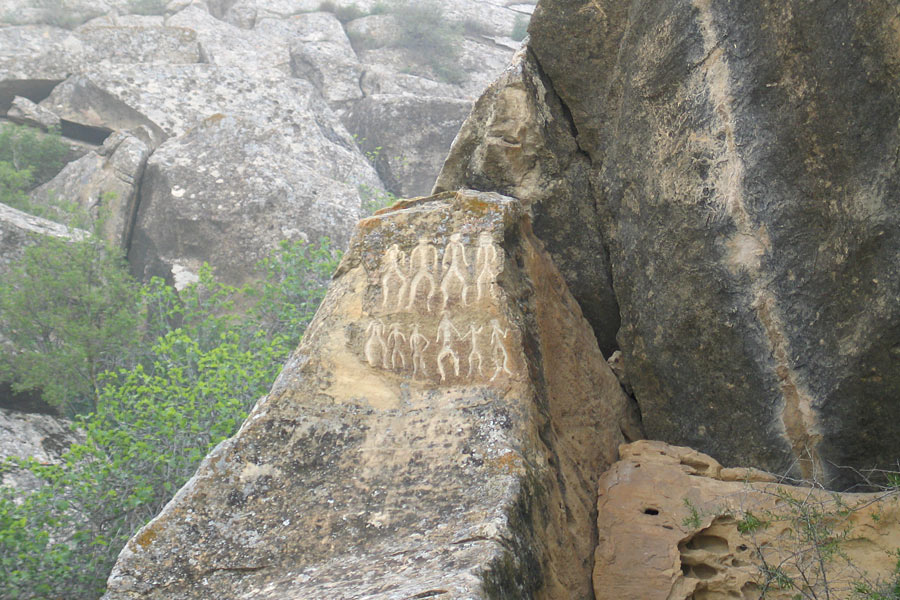 Gobustan National Park was inhabited for millennia by various civilizations, some of which left their mark on the land in the form of 6000 rock drawings which date from the Paleolithic Age to medieval times. Now a UNESCO-protected site, the rock drawings include depictions of everyday activities and images of boats, suns, lions, gazelles, bulls and wild boars. Although most inscriptions are in Arabic and Farsi, there is also a Latin signature left behind by Roman troops. Petroglyphs aside, Gobustan even has its own Stonehenge and a singing stone called Gaval Dash, whose unusual melodies are created when pebbles come in contact with its porous limestone.
2. Climb the legendary Maiden Tower (Giz Galasi)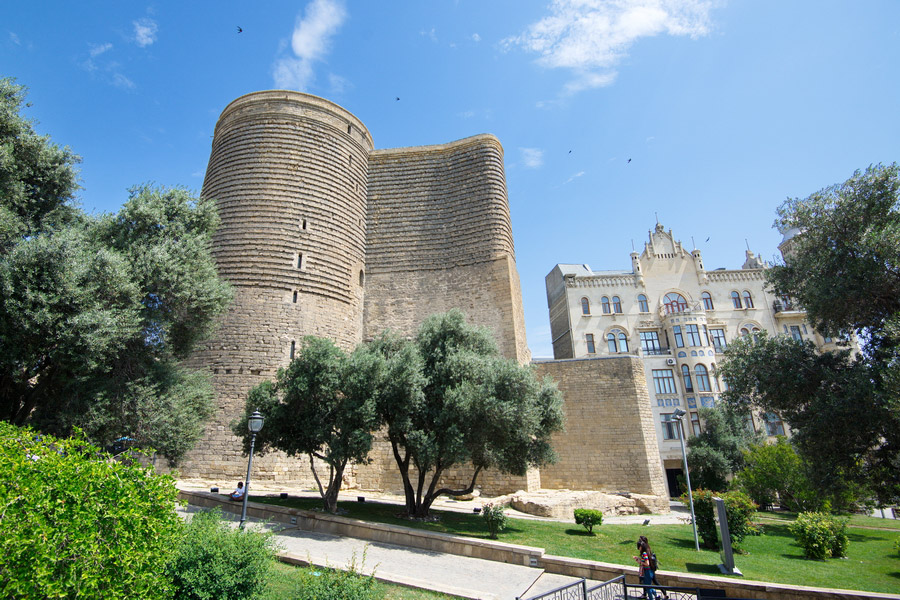 Begin your tour of Baku, Azerbaijan with a visit to Maiden Tower, a beautiful, mysterious symbol of the capital and one of its must-see attractions. Perhaps because the tower's original name, date of construction and purpose have never been determined, it is now steeped in legends which local residents will be happy to share with you. Maiden Tower stands nearly 30 meters in height in Baku's Icheri Sheher (Inner City), now a UNESCO World Heritage Site. Climb to the top of Maiden Tower for a bird's-eye view of this historic quarter.
3. Swim in the Caspian Sea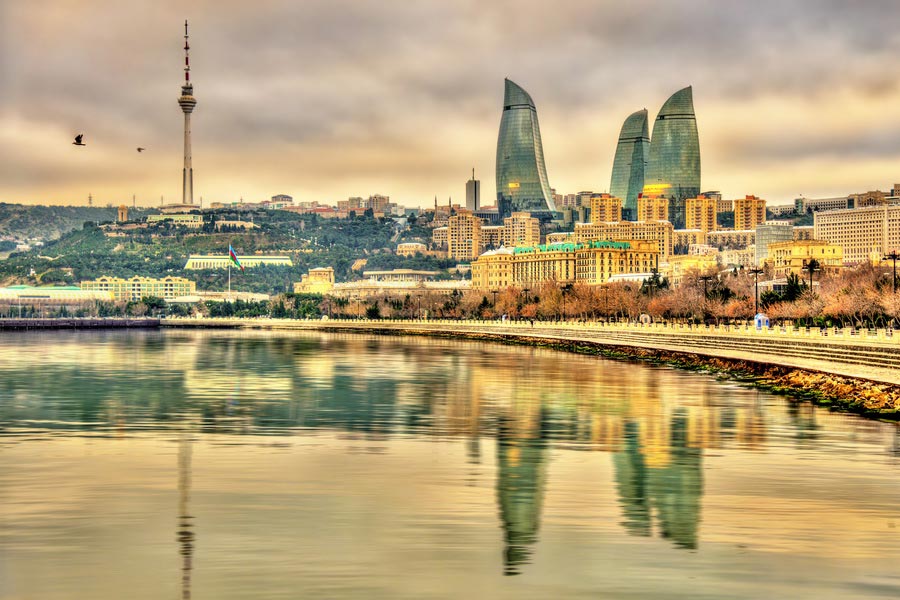 Although its name is deceptive, the Caspian Sea is actually the largest lake in the world, and as such its waters are much less salty than seawater. Refreshing to swim in and even believed to hold healing powers, the Caspian Sea is the perfect destination on a summer tour of Azerbaijan. Beachside resorts such as Nabran offer modern hotels, wellness centers and endless aquatic activities, including speed boat rides, yacht excursions, fishing and scuba diving.
4. Slosh through mud volcanoes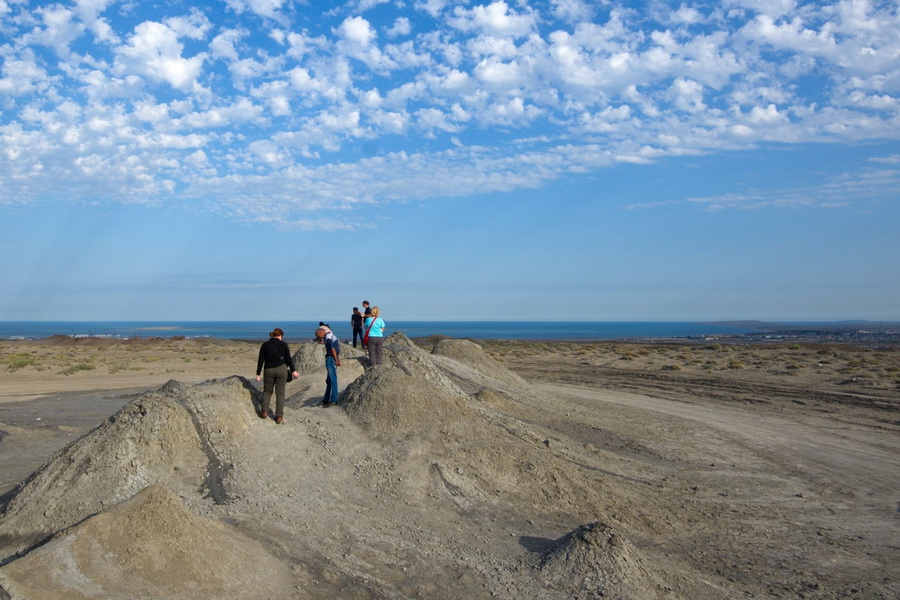 Out of the world's 800 mud volcanoes, around 350 of them can be found on the islands and coastlines of Azerbaijan. Each volcano ranges from 20 to 400 meters in height, and twenty-three of the most notable ones are now under national protection. Snapping photos of the bizarre Martian landscapes smothered in cracked pools of mud remains one of tourists' favorite things to do in Azerbaijan. Unlike lava, the streams of erupted mud are not very hot and are commonly used as a natural healing product. Azerbaijan's largest chain of active volcanoes can be found 10 kilometers to the south of Gobustan village on the Baku-Alyat road.
5. Discover the mysterious Ateshgah Temple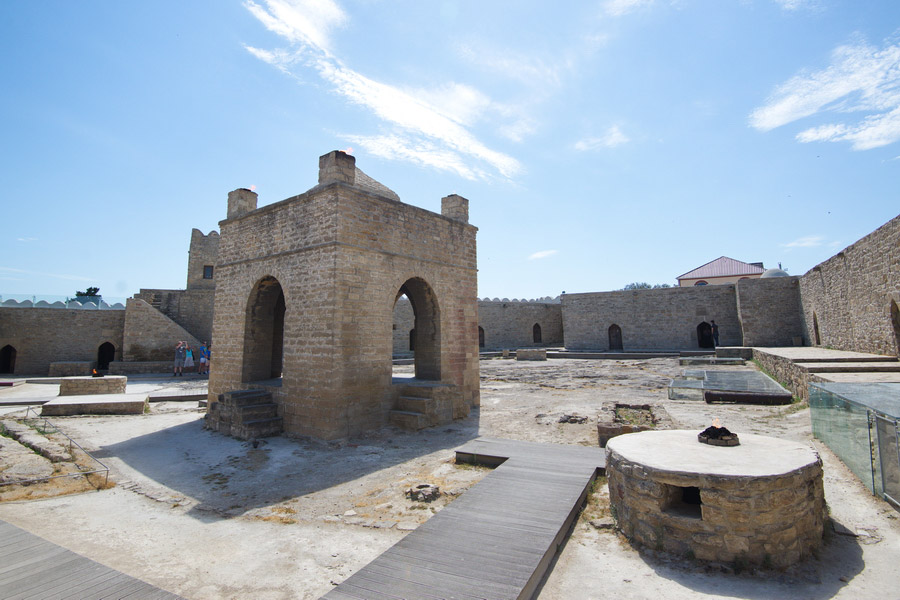 In the village of Surakhany near Baku is Ateshgah Temple, famous for a naturally- burning flame which was fueled as underground gases rose to the surface and came in contact with oxygen. The site was once regarded as holy by the Zoroastrians, who view fire as a sacred element. The temple was destroyed when Islam arrived to Azerbaijan but was restored in 1713 by fire-worshipping Hindu merchants. Chapels and a caravanserai were added, and by the early 19th century the temple had a formidable presence. Yet after tectonic movements extinguished the temple's natural gas source in 1880, the site was abandoned. Today a trip to the lonely remains of Ateshgah Temple, complete with an artificial flame, remain one of the top 10 things to do in Azerbaijan.
6. Feel like royalty in Sheki Khans' Palace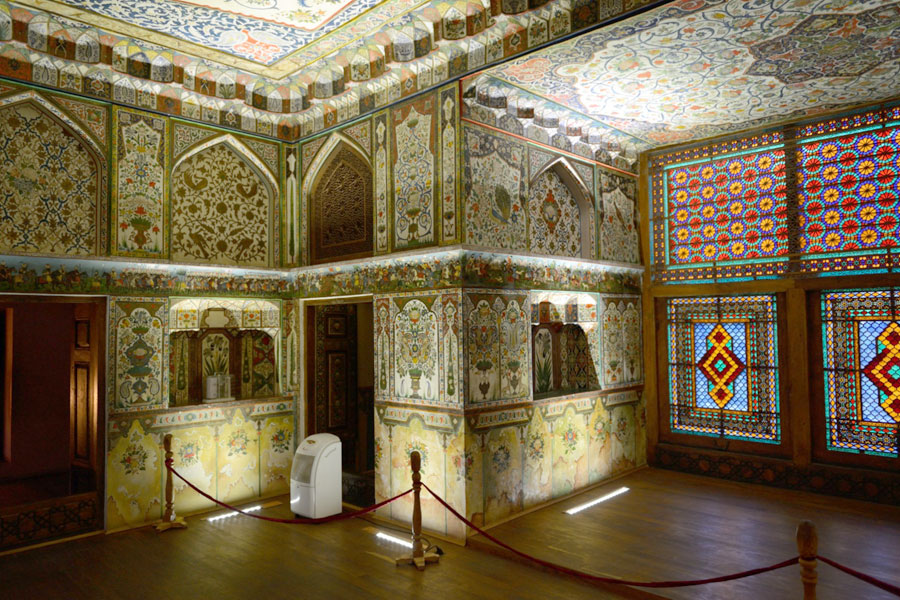 Built in 1761-62 as a summer residence for Husseyn-khan Mushtad, Sheki Khans' Palace is the pinnacle of medieval Azerbaijani architecture. The entire mansion was constructed without a single nail, and unfortunately the builders' secret for holding together the adobe, wooden beams and columns has been lost. Stand amazed before its stained glass windows, made with 5000 colorful pieces of Venetian glass arranged in one square meter. Another exquisite feature of Sheki Khans' Palace are the miniature paintings adorning its walls and ceilings which depict hunting scenes, elephants, dragons and mythical birds in a paradise garden. Despite the passing of 250 years, these paintings have retained their vivid tones. Two huge sycamore trees which were planted in the original garden still stand guard outside the palace.
7. Satisfy your hunger with qutab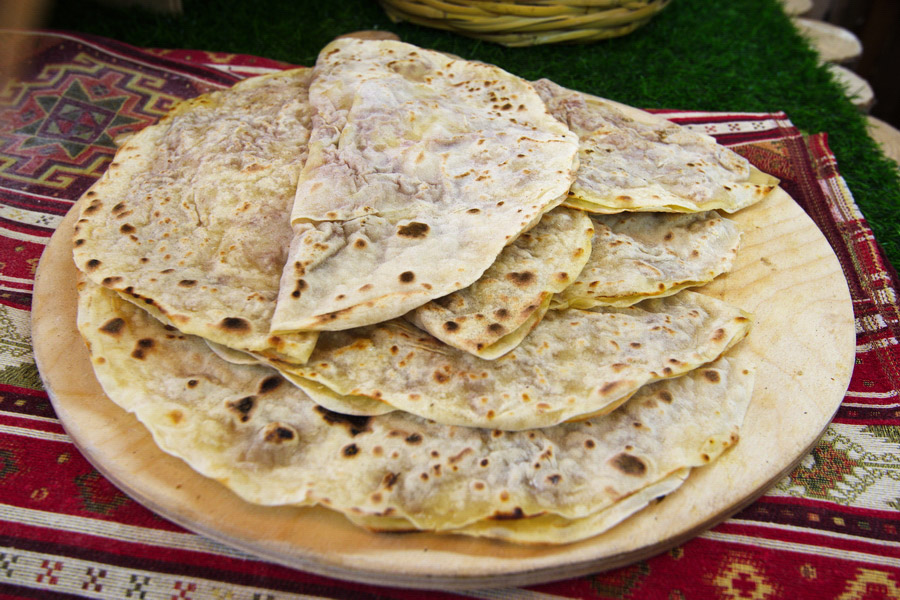 Qutab (Kutab) is to Azerbaijan what pizza is to Italy and croissants are to Paris. So important is qutab to the local diet that in past times, a girl had to learn how to bake bread, weave a carpet and cook qutab before she was considered eligible for marriage. Thin and crescent-shaped, qutab can be stuffed with almost anything, although greens, beef, lamb, pumpkin and cheese are among the most popular. Qutab recipes vary between each city and restaurant, yet the main gist is a thin dough made from water and eggs which is stuffed in the middle, folded in two and crimped around the edges before being pan fried or baked and lightly oiled. Most people can eat 5-7 qutab in one sitting. To live like a local, you should eat qutab with your hands as you dip it in a special sauce: Qutab with greens are served with matzoon yogurt and garlic, while beef varieties are eaten with sumac, a sour barberry spice popular in the Eastern Mediterranean. A vacation in Azerbaijan simply doesn't count until you have tried qutab!
8. Climb back in time through a chimney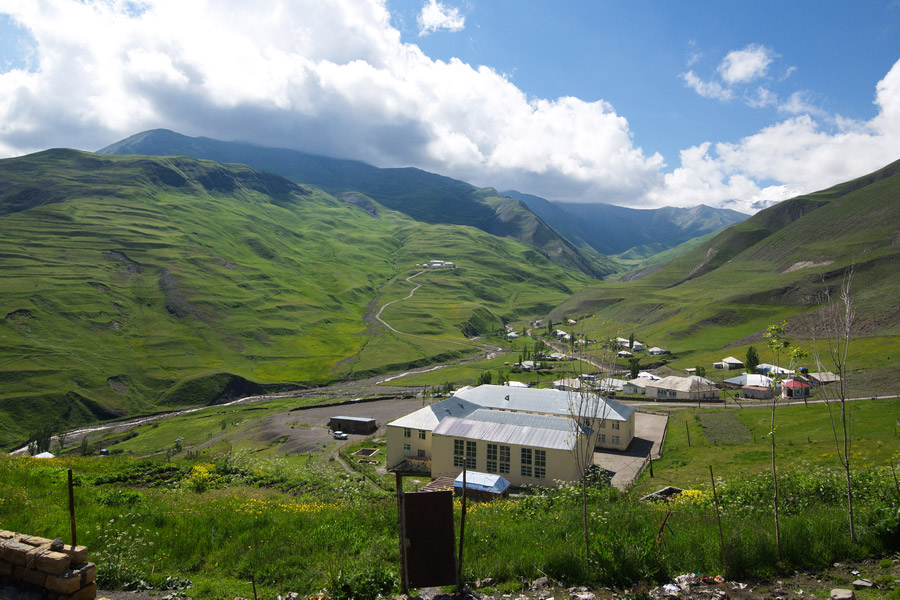 The mountain village of Khinalug was originally part of Caucasian Albania and is mentioned in ancient Greek and Roman writings. It remained highly inaccessible until a road to the village was constructed in 2006, yet even today the hamlet appears lost in time at a height of 2100-2300 meters above sea level. Villagers, called Kyats, believe themselves to be direct descendants of Japhet the son of Noah. They speak a unique language that does not belong to any language family and still observe many traditions which are found nowhere else in Azerbaijan. The simple diet and distinctive garments of Khinalug reflect the beautiful but harsh reality in which the people live. Kyats stack their homes on top of one another on the hillside, so that the roof of one home serves as the neighbor's courtyard. Neighbors will even visit each other by climbing through a chimney in the ceiling of their house! The surreal world of Khinalug, now a state historical reserve, is one of the best cities in Azerbaijan in which to have a unique cultural experience.
9. Stroll along Baku Boulevard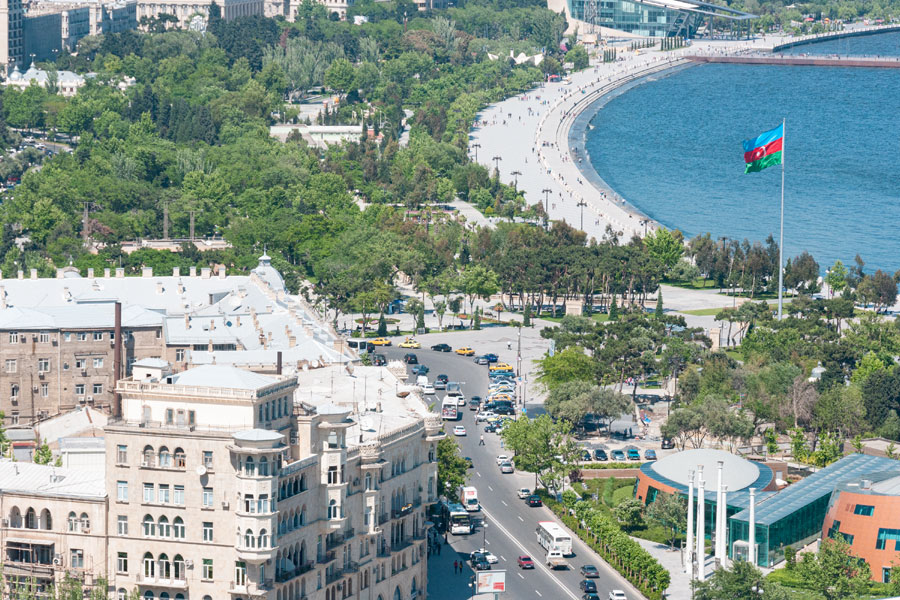 This seafront promenade is more than a century old, yet thanks to renovations costing upwards of half a billion US dollars, the boulevard looks like new. Far from a tourist trap, it remains a favorite hangout for locals, who often refer to it as Primorsky Boulevard. Pleasant walkways, creative landscape designs, playful singing fountains, cozy cafes, a cinema, children's theater, parachute tower and a yacht club are just a few of the attractions which Baku Boulevard has to offer. If you wish to see a performance, the trendy Baku Crystal Hall was built for Eurovision 2012 and now hosts concerts and sports competitions. Strolling the promenade remains one of the more popular things to do in Baku at night, while anyone looking for a quiet escape can climb the stairs or ride the cable car to Martyr's Lane, which offers amazing views of the city and Baku Bay.
10. Pay homage to a great queen
Nakhchivan is covered in the fingerprints of renowned medieval architect Ajami Nakhchivani, and one of his greatest works is the elegant Momine-Khatun Mausoleum. It was built in April 1186 at the behest of Atabek Dzhahan Pehlivan for his mother, the strong and intelligent Momine-Khatun. Together with her husband, Momine-Khatun is known as the founder of the Eldiguzid Dynasty. One of the most historic pieces of Azeri architecture, Momine-Khatun Mausoleum is an architectural masterpiece which has exuded the love of a son and the wisdom of his influential mother for more than eight centuries.