Vacation in Azerbaijan

10 Great Things to Do and See in Azerbaijan
"Azerbaijan Land of Fire" motto embellished uniform of Madrid football club "Atletico", football champions of Spain in 2013/2014. This touch demonstrates to what extent Azerbaijan cares about attracting tourists to their developing country. Vacation in Azerbaijan is discovering thousands of places that you can visit and hundreds of activities that you can have. We will share with you 10 things to do in Azerbaijan.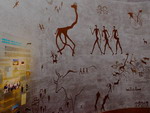 1. Hear the melody of magic Gobustan. (in Azeri – Land of ravines). Humans always lived here. Epochs, millenniums, centuries, civilizations changed, but a human being was born, he hunted, fought and created in these places. On the territory of the reserve with square of 1327 acres there were about 6000 rock drawings have been found left by humanity from the upper Paleolithic Age to the Medieval Age. Some life scenes: women at work, men hunting, boats and the sun, lions and gazelles, bulls and wild boars. Signature in Latin by Roman legionnaries of the Legio XII Fulminata. Inscriptions are in Arabic and Farsi. There is even their own Stonehenge in Gobustan. Gobustan is also famous for its "singing" stones – Gavaldash. Rocks from porous shell limestone is the reason of the sounds made by pebbles spread for few kilometers in the surrounding. The oldest rock music in the Universe. Cultural landscape of rock paintings of Gobustan is enlisted as UNESCO World Heritage Site.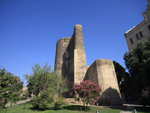 2. Take a photo in front of the Maiden Tower (Azeri – Giz Galasi). A photo with the symbol of Baku – a 92 feet high mysterious and beautiful Maiden Tower is inseparable part of a vacation in Azerbaijan. Anyone in the capital can tell you many legends and stories related to this amazing place. Up to now there isn't unified opinion on the approximate timing of the origin, purpose and even the name of this unusual architectural monument. Icheri Shehera (an inner city) is included as a UNESCO World Heritage Site. From the top of the tower you will see a wonderful view on the unique historical-architectural reserve in the centre of Baku.
3. Visit the Absheron shore. The Caspian Sea waters, the biggest lake in the world, are not too salty as in seas: it is pleasant to swim and it is healing. It is hard to imagine a vacation in Azerbaijan without visiting a resort zone Nabran with its numerous modern hotels and sanatoriums. In the centre of the beach tourism of the Near-Caspian region one can ride on boats, sail on yachts, fish and dive with aqualung.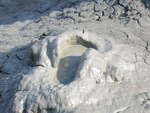 4. Check the temperature of mud volcanoes. There is a posit that 350 out of 800 mud volcanoes in the world are on the territory of Azerbaijan: on the seashores, islands and in the sea. Tourists love taking pictures of mysterious "Marsian" views of frozen and cracked flows of mud. It is interesting to know that the flow of erupted mud is not too hot, and used as a valuable healing product. More notable volcanoes (and they make 23) are under the protection of the state. Mud volcanoes are from 20 up to 400 meters high. A chain of active mud volcanoes are on the road Baku-Alyat, 10 km to the south of the Gobustan village.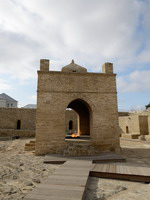 5. See the flame of Ateshgah, the Temple of Eternal Fire. The Ateshgah temple is 30 km away from Baku, in the village of Surakhany, where it is known for such unique natural phenomenon as burning natural gas outlets (underground gas coming onto surface contacts oxygen and lights up). Scientists say that there was a holy place of Zoroastrians in the beginning of our era. According to Zoroastrism Fire is reflected in both spiritual and everyday life. With arrival of Islam, the temple was destroyed. Restoration started only in the 18th century (1713) by Hindu-fire worshippers-merchants. Gradually they built chapels, cells and caravanserai. By the beginning of the 19th century, the temple had a present. Tectonic motions brought to cease of a gas outlet at the ground surface and by 1880 the temple was abandoned. These days the place of the ancient Zoroastrian temple is open for tourists, and there is a fire burning too, but an artificial one.
6. Feel yourself an Oriental Governor in the Palace of Sheki Khans. The Palace of Sheki Khans built in 1761-62 as a summer residence of the Husseyn-khan Mushtad, is considered to be the top masterpiece of the medieval Azerbaijan architecture. The entire palace is constructed without a single nail. The secret of the ingredients of the solution that the builders used in constructing the palace to connect adobe, river stone, beams, columns and boards of sycamore and oak is unfortunately lost. You will be amazed to see stained glass windows made of Venetian glass (5000 colorful pieces on a square meter). The peculiarity of the palace is a miniature painting on walls and ceilings: scenes from hunting, mythical birds in paradise garden, elephants and dragons. The colors are still there and have not lost their brightness 250 years later. There are two huge sycamore trees remained from the garden of the Sheki Khan that are standing there in protection of the palace.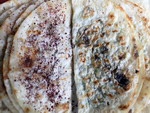 7. Discover the secret of kutabs. Kutab only seems a usual thin patty. Kutab is like a pizza in Italy or a croissant in Paris. In the old times, no one would marry a girl who could not bake a bread, weave a carpet and cook a kutab. Thin, crescent-shaped, traditional and popular kutabs may have different kinds of stuffing: greens, beef, lamb, pumpkin, cheese. The recipe to make this unusual dish varies from one city to another, from one restaurant to another. What unites them is that the dough is made on water and eggs, thinly rolled, stuffed in the middle, folded in two and crimp the edges. They are either pan fried, or baked in oven or tandoor. Oiled before serving. Usually there are 5-7 kutabs per person. Kutabs should be eaten with the hands. Kutabs with greens are served with matzoon (Caucasus local yogurt) and garlic, and the beef kutabs – with sumac (A sour spice popular in the Eastern Mediterranean made of dried barberry). Vacation in Azerbaijan doesn't count if you haven't tried kutabs:).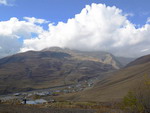 8. Visit a neighbour through a chimney. The old mountain village of Khinalug was mentioned in ancient Greek and Roman historians' writings. A piece of Caucasian Albania, lost in time and on the height of 2100-2300m has not been accessible up to recent times, thus villagers – Kyats – have preserved their unique language that does not belong to any language family, or language group, traditions and customs found nowhere else, and consider themselves as a direct descendants of Japhet, the son of Noah. Kyats build their houses on one onto another, this way the roof one neighbor is a courtyard of another. There is a chimney in the ceiling of the house through which they visit each other. It is a beautiful and harsh land, simple food, distinctive home garments. They say there is even a snowman somewhere around. Your vacation to Azerbaijan will not be complete without traveling to the State historical-architectural reserve. All the more so when in 2006 the road to Khinalug village was constructed.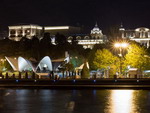 9. Take a stroll along the Baku seaside boulevard. Vacation in Azerbaijan will be unforgettable with a walk along the old (more than 100 years) and renewed (half a billion USD investments) Primorsky boulevard (seafront). The alleys, landscape design turned the park into the residents' favourite place. There are two most beautiful singing fountains, numerous new and reconstructed attractions for children and adults, cozy cafes and teahouses, cinema, kids summer theatre, parachute tower and a yacht-club. The embellishment of the Boulevard is a sport-concert complex Baku Crystal Hall built for the event of Eurovision-2012. And if you wish some peace, take a walk up the stairs or use a cable-railway to Nagorny Park where you will get a panoramic view of the city with Baku monuments and an amazing view of Baku Bay.
10. Bow to a great woman. There is a mausoleum of a exceptional beauty in Nakhichevan, built by a son, atabek Dzhahan Pehlivan, for his mother Momine-Khatun in April of 1186. She was smart and strong woman, together with her husband (the father of Dzhahan Pehlivan) she is considered to be the root of the Eldegyz dynasty and the founder of the Atabeks state. One of the most historical buildings of Azeri architecture, which assembles son's love, the wise queen and art of architect Adjemi, adorns this country for more than eight centuries.