Tbilisi Restaurants and Cafes
Tbilisi restaurants and cafes offer a surprising variety of traditional and international cuisine. Both can be found in most areas of the city. Georgians love restaurants and it shows. Tourists are amazed to see every major thoroughfare lined with dining establishments of nearly every nationality, level of service, and price range.
The Chardin area is known for its wide range of restaurants serving an array of European and Asian cuisines.
Abashidze St. in Vake has everything from Mediterranean themed fine dining to burgers and pizza shops.
Levantine and Turkish cuisine are popular among tourists visiting Agmahsenabeli Avenue in Tbilisi's Turkish quarter known as Marjanishvili.
Tbilisi's European style cafes, delicatessens and confectioners shops are famous for inexpensive coffee, continental deli fare, and delicious Georgian "torti" cakes. Locals and tourists alike flock to Saakadze Square in the district of Saburtalo to sample some of Tbilisi's best Georgian style shaurma.
Georgian traditional food is found throughout Tbilisi. One can easily find high end Georgian restaurants in any district, particularly on Rustaveli Avenue in central Tbilisi. Georgian fast food is available everywhere and many Georgian restaurant chains are open 24 hours a day. Traditional "tone" bread shops which sell loaves of bread fresh from a clay furnace are equally as widespread.
Be sure to visit one of the many beer pubs for hot Georgian khinkhali dumplings.
Georgian street food cafes are found on almost every corner of Tbilisi. Kachapuri cheese pie, lobiani bean pie, and an assortment of other quick and delicious national treats are unbelievably affordable.
Most Tbilisi restaurants and cafes provide bilingual menus and service in English in commonplace.
Print version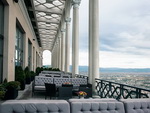 Address:
Mtatsminda plateau, 0114 Tbilisi, Georgia
Phone:
+995 32 298 00 / 577 74 44 00
Cuisine:
Georgian
Working hours:
12:00-00:00
Popular dishes:
Kachapuri, Shikmeruli chicken, Khinkhali
Description:
The Funicular Restaurant Complex is a Tbilisi institution of Georgian history and fine cuisine. This magnificent structure sits high atop Mtatsminda (Holy Mountain) at the top of the funicular railway above Tbilisi.
Print version