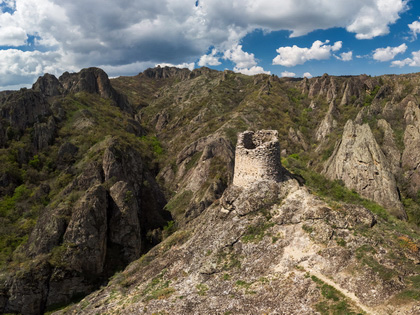 If the combination of stunning scenery, remote historical castles and rigorous hiking appeals to you, then you won't want to miss the Day Hike to Birtvisi Canyon! Birtvisi is a great introduction to one of Georgia's most breathtaking sites, offering visitors a wide variety of landscapes in a small area: narrow, rocky canyons, oak forests and impregnable castle ruins towering atop the canyon's cliffs. Hiking in Birtvisi Canyon will revitalize your spirit while bringing history to life among the ruins of medieval fortresses and citadels.
Located just 60 km from Tbilisi, the site is growing in popularity among the city's residents and adventure travellers.
Tour itinerary:
Tbilisi – Birtvisi Canyon – Tbilisi
At 09:00 our guide and driver will meet you at your Tbilisi hotel to begin your hiking tour to Birtvisi Canyon. Depart Tbilisi, driving deep into its southwestern countryside for about one hour till you reach Algeti National Park (Trialeti National Park), from which Birtvisi Canyon lies adjacent.
At 10:00 we will begin our hike from the village Tbisi. After passing the last house, the path begins a quick ascent up the left side of a wooded ridge. As you follow the path, the first panoramic views of the canyon will start unfolding before your eyes. Descend through a narrow canyon to a delightful forested valley. In about an hour and a half we will reach a cozy campground.
After a short rest, follow a small river on the left that flows serenely between the canyons. At the very end of this path we will discover the ruins of a longstanding, hidden castle. Climb a gradual ascent for ~30 minutes, scrambling between giant boulders to complete our route. In order to reach the last fortress, you should be aware that in some places we will need to climb on all fours to navigate the challenging terrain, but you will be rewarded with a picturesque, Cappadocian-style landscape! The panoramic view will unveil rock formations dramatically scattered amid forests.
On the return descent to Tbisi, we can take one of several different routes that loops around the mountain, allowing you to enjoy additional breathtaking views.
Drive back to Tbilisi. Drop-off at your hotel. End of the tour.
Duration of hike: 5-6 hours
Difficulty level: moderate to strenuous
Recommended for Birtvisi Canyon tour: appropriate footwear, water bottle, raincoat, torch, sunglasses, sunscreen & hat.
Please note: For hiking in Birtvisi, dry weather is preferable, as slick rocks can make the hike dangerous.
Price includes:
All transfers as per itinerary;
Sightseeing program with English-speaking guide;
Mineral water (0,5 litre per person);
Picnic lunch (without alcohol).
Price does not include:
Insurance;
Tips are not included but are appreciated.