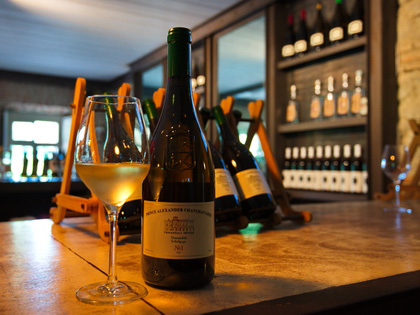 This 1-day Kakheti wine tour from Tbilisi is a fascinating journey to discover Georgia's 8,000-year history of winemaking, while enjoying the mountain scenery, picturesque villages, historical monuments, and culture of eastern Georgia. Highlights include wine-tasting at two wineries, viewing the Alaverdi Cathedral's frescoes, and visiting the regional centre of Telavi. Join this tour of Kakheti to taste unique Georgian wines and learn the local winemakers' secrets!
This is an individual tour. If you are looking to join Kakheti wine group tour, please follow the link.
Tour itinerary:
Tbilisi – Telavi – Shumi Winery – Alaverdi Monastery – Lekso's Winery – Tbilisi
Our Kakheti wine tour starts at 09:00 from Tbilisi. We depart for Georgia's Kakheti region, the centerpiece of the country's 8,000-year winemaking history. The beautiful road to Kakheti goes over the Gombori Pass (2 h, 100 km) before reaching Telavi, the region's administrative and historical centre. Make a short stop in Telavi at the monument to Erekle II and the giant, centuries-old plane tree. Continue to Shumi Winery to explore the wine museum and the production facilities, before enjoying a traditional lunch accompanied by premium Shumi wines. Next, drive to the ancient Alaverdi Monastery, which has one of the tallest cathedrals in Georgia. Standing amid vines and with the Caucasus mountains in the background, this architectural masterpiece also features unique 11th- to 17th-century frescoes. The final stop of our day tour to Kakheti is a private winery, Lekso's Marani, where you'll visit the traditional Georgian wine cellar. End the tour in style as you taste different wines produced at Lekso's Marani using the traditional Georgian process of making wine in clay vessels buried in the earth (qvevri). After this, return to your hotel in Tbilisi.
Duration: 10-12 hours
Price includes:
All transfers as per itinerary;
English-speaking guide;
Lunch and wine tasting at Shumi Winery;
Wine tasting at Lekso's Marani;
Mineral water (500ml per person per day).