Top 10 Things to Do in Kazakhstan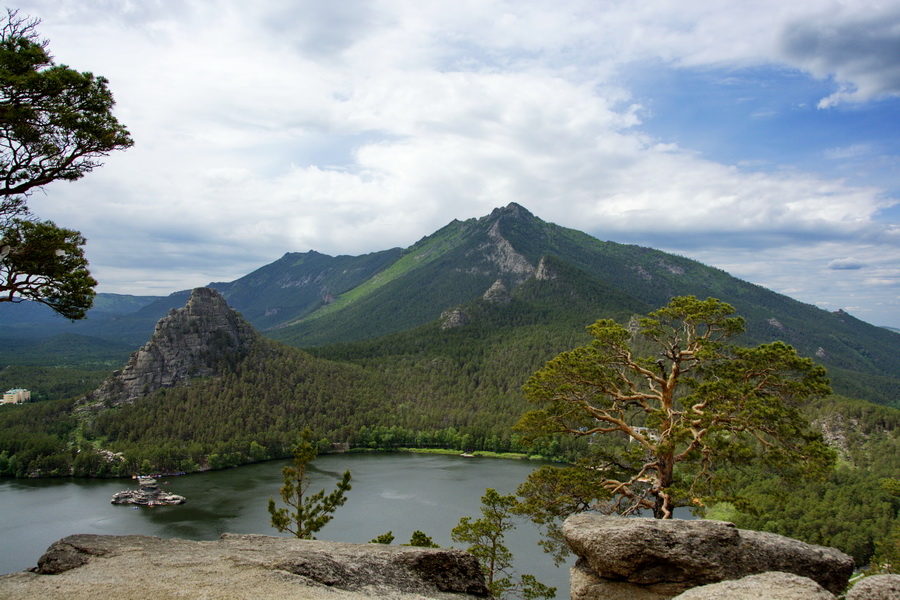 Kazakhstan is among the 10 largest countries in the world, and each of its 14 regions lays claim to unique attractions that travelers are sure to enjoy. The nomadic history which played out on these vast steppes evolved into a sedentary lifestyle in the past two centuries, yet traces of its past are embedded in everything from petroglyphs to local mentality. Since gaining independence in 1991, Kazakhstan has made a name for itself with truly unique cities, huge economical strides and an ever-expanding tourist industry.
Top 10 Things to Do in Kazakhstan is a collection of our favorite experiences on the Central Asian steppe:
1. Listen to the melodies of Kurmangazy
You can read stacks of books on the culture of Kazakhstan, but to fully understand the soul and mindset of the Kazakh people, you need to listen to their music. Kurmangazy was a 19th-century composer and musician who played the dombra, a long-necked instrument with two strings. Proud and spirited, he was wrongly accused of theft and ordered to serve out a prison sentence in Siberia. He managed to escape, thereby also saving his wife and children from a life of captivity. The free spirit of Kurmangazy can be heard in his many songs dedicated to the open steppes and his life in Kazakhstan.
2. Enjoy the view of Astana from Bayterek
As one of the youngest capital cities in the world, Astana will add spice to any Central Asian vacation. After becoming the capital of Kazakhstan in 1997, the city was designed by renowned architect Kisho Kurokawa with the aim of reflecting both the nation's heritage and its promising future. This future is on full display in Astana's many unusual landmarks such as Khan-Shatyr Entertainment Center, Palace of Peace and Reconciliation and Bayterek Tower. The latter is now an iconic city symbol, a visit to which any local will tell you is among the top things to do in Kazakhstan.
3. Explore Kazakhstan's spiritual history in Turkestan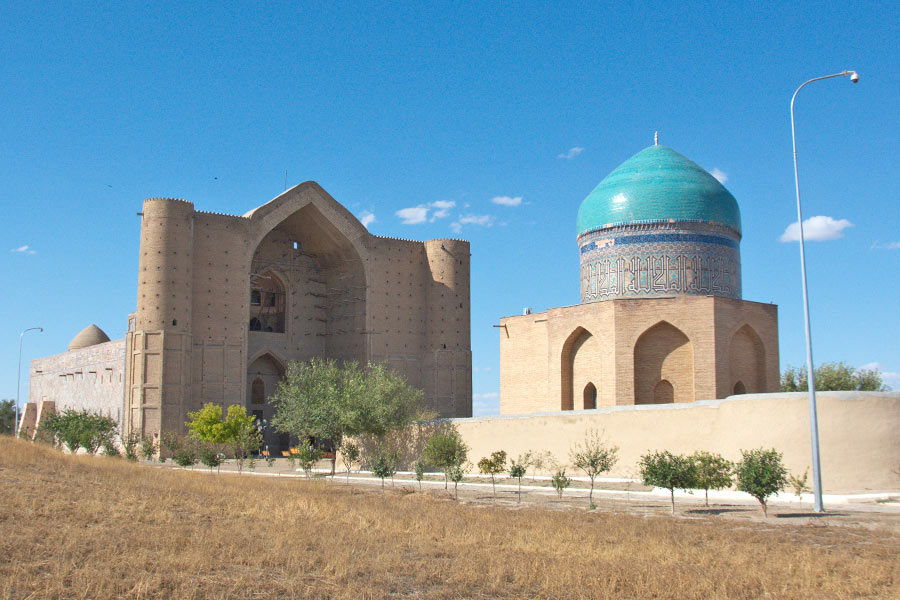 A small city in southern Kazakhstan, Turkestan gained its status as a holy site thanks to the 12th-century poet and Islamic preacher Khoja Ahmad Yassavi, who spent much of his life here. After Yassavi's death, the city developed into an intellectual center which today is a regional capital that continues to attract local religious pilgrims and international tourists with some of the most famous buildings in all Kazakhstan. Highlights of the city include the revered teacher's massive mausoleum, built by Tamerlane in the 1390s, medieval baths and an underground cell where Yassavi reportedly lived out the last years of his life.
4. Hear the haunting Singing Dune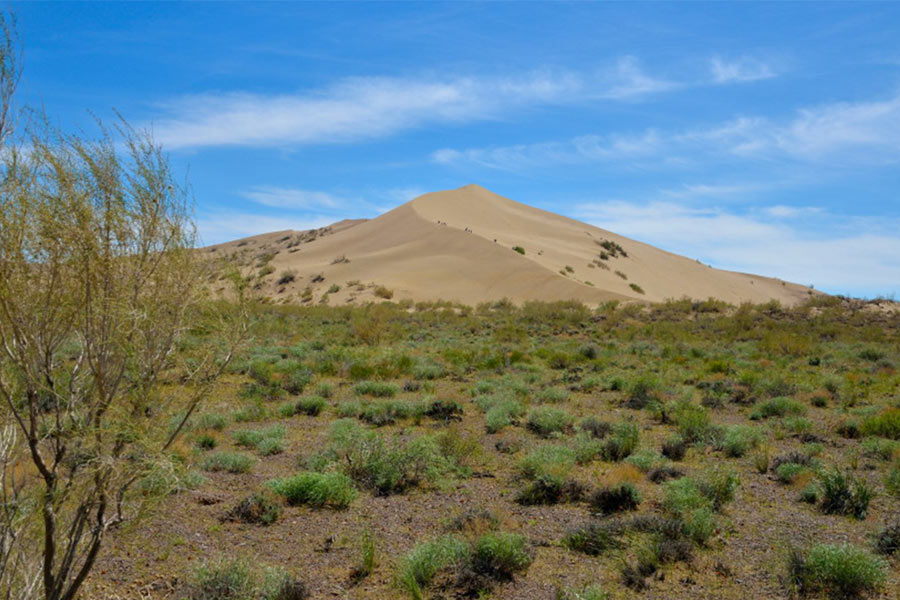 Altyn-Emel National Park has a very unusual talent – one of its mounds can sing. The Singing Dune is about 150 meters tall and stretches almost 3 kilometers long, and on a windy day it makes a sound likened to that of an organ. Legends surrounding this phenomenon point to supernatural forces, but scientists claim that the sound is actually produced by the grains of sand rubbing together as the wind twirls them around. Surrounding the dunes is a glorious glimpse of untouched Kazakhstan nature, an arid steppe filled with rare plants and animals whose terrain typifies the country.
5. Skate alongside Olympiads at mountainous Medeu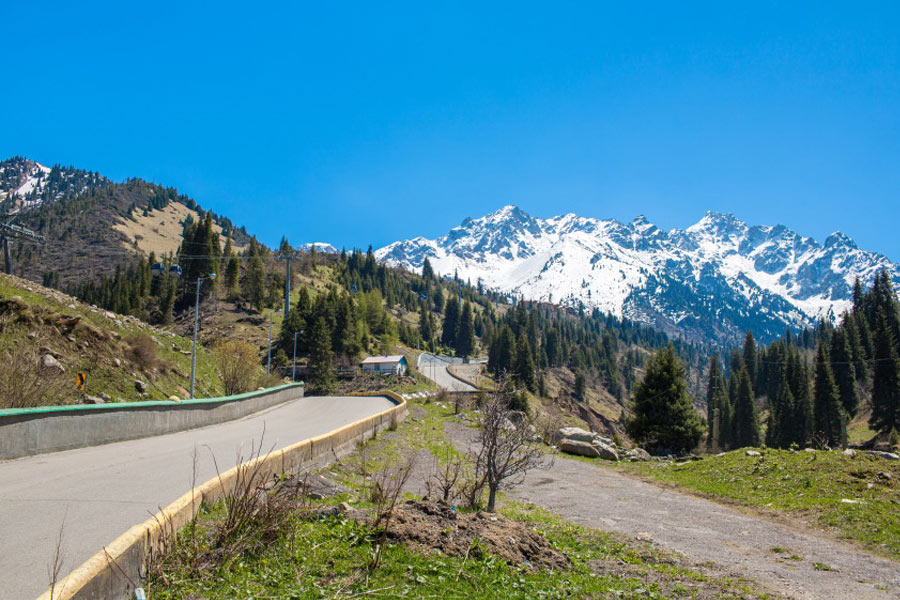 Medeu is a sports complex built just below the resort of Shymbulak in the mountains near Almaty. The complex itself is only a couple of decades old, but its Olympic-size ice skating rink has seen almost 50 world records be set and has hosted many international competitions. Even novices can enjoy this famous rink, which remains open year-round for visitors of every skill level. Many scheduled events are held at Medeu, so check the schedule before arriving. Tourists who aren't interested in winter sports will still find the restaurants, venues, fresh air and unbeatable scenery at Medeu well worth the trip.
6. See the stamps of nomads at Tamgaly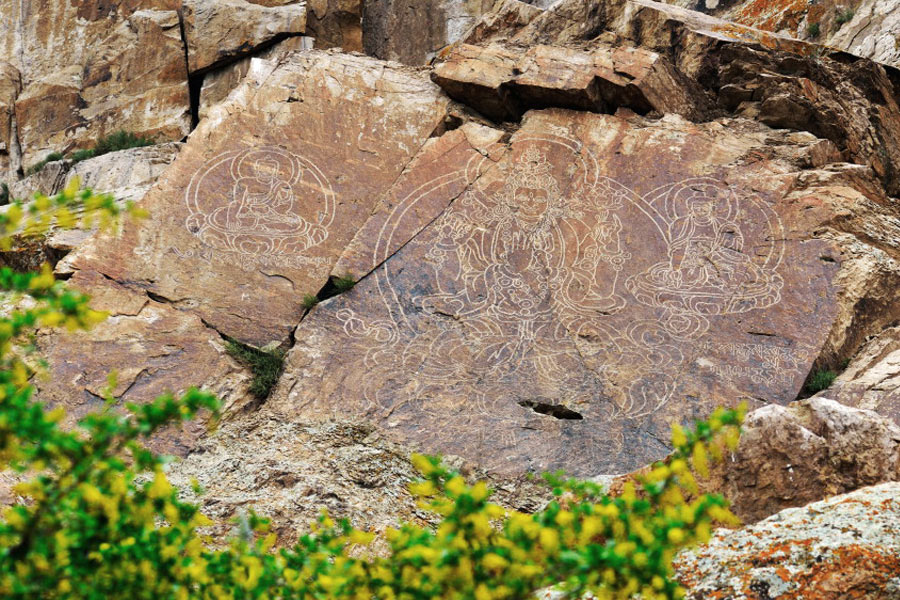 Scrawled across the walls of a dramatic gorge north of Almaty are some 2,000 ancient rock drawings collectively known as Tamgaly Petroglyphs. "Tamga" were brandings and designs which were once used by nomads to mark their property, and the simple rock designs at Tamgaly likely served a similar purpose. Many of the largely animal-inspired designs date to the Bronze Age, while some of the newer images feature Buddhist and Tibetan inscriptions. Each of them, however, reveals the artistic vision of the Kazakh people's ancestors. Seeing Tamgaly Petroglyphs with your own eyes is a truly amazing experience and one that is overlooked by far too many tourists to Kazakhstan.
7. Launch into space at Baikonur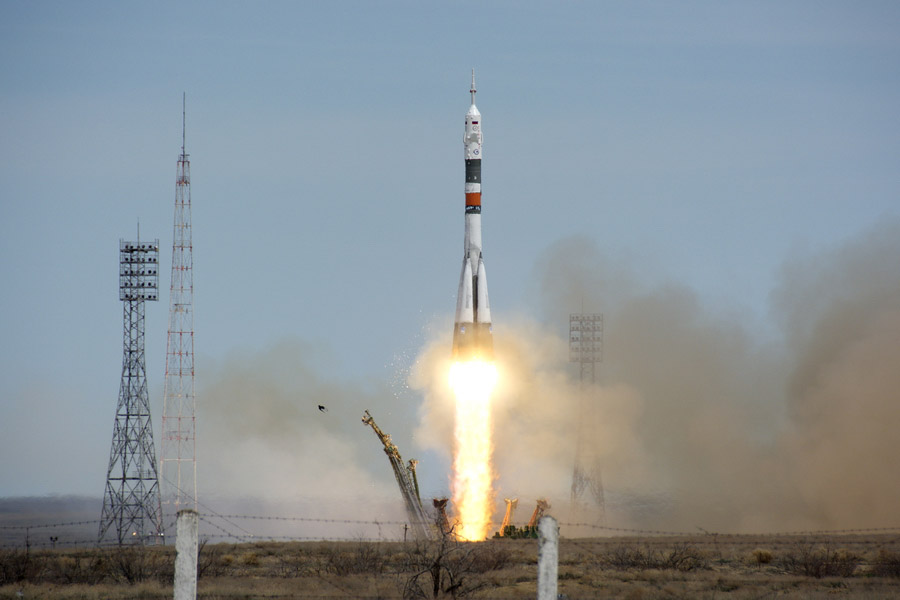 Few people realize that Kazakhstan is home to the largest and busiest space station in the world, an outpost called Baikonur. The first man in space, Yuri Gagarin, lifted off from a launchpad at Baikonur, and today this cosmodrome on the cusp of the desert remains the only facility which launches manned flights for the International Space Station. Visitors to Baikonur can learn about space equipment and the history of space travel on a tour of Baikonur's museums and facilities. For those who wish to take their Kazakhstan vacation to the next level, Advantour even offers specially-organized trips to witness launches.
8. Breathe the fresh air of Burabay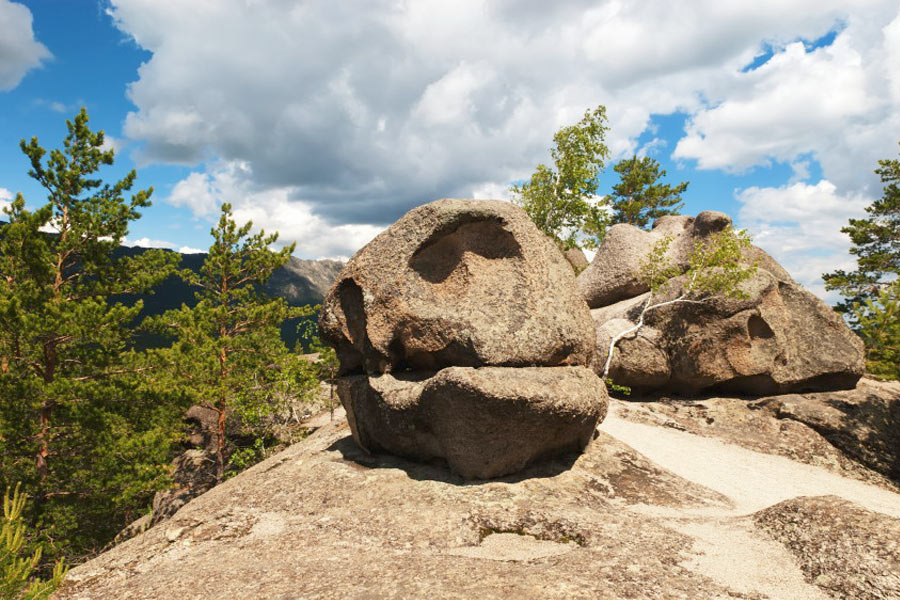 Legend claims that the Kazakhs were disappointed when God only gave them arid steppes for their inheritance, so northern Kazakhstan was transformed into an extraordinary paradise with slopes of fresh-smelling pine trees and clear blue lakes. Burabay National Park has been a protected reserve since 1898. It is home to many unique and endangered species as well as spectacular protected landscapes. Burabay offers several great hiking options for the adventurous traveler, while those simply looking for a break from the city can find respite with a picnic on the shores of one of its pristine alpine lakes.
9. Hike around Big Almaty Lake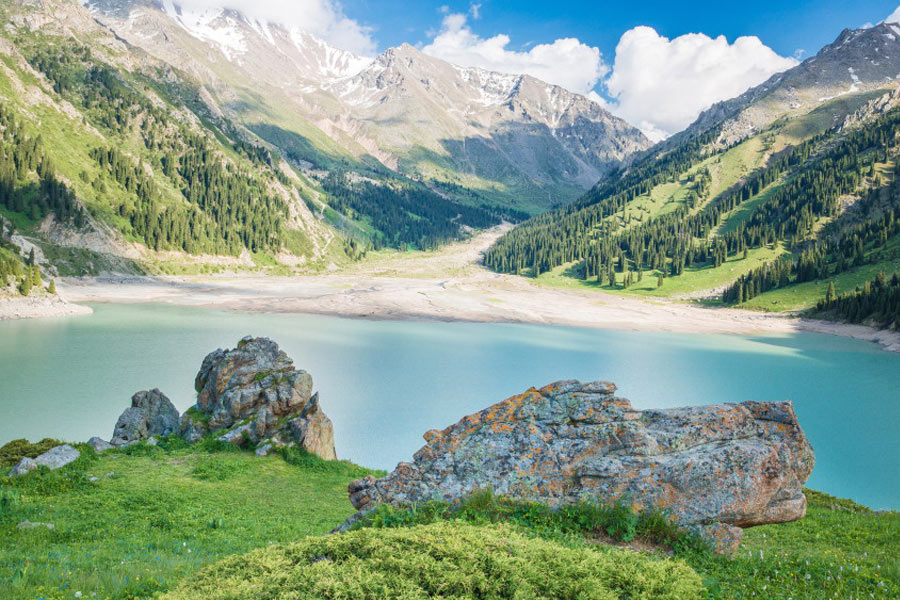 Rustic beauty lies just beyond the borders of Kazakhstan's southern capital. A short drive from the city are Big Almaty Gorge and Big Almaty Lake, whose serene waters fed by melting mountain glaciers are the pinnacle of Kazakhstan beauty. Although swimming is forbidden in Big Almaty Lake since it serves as a major water source for the city, picnics and hiking excursions around the lake and into the mountains beyond are the perfect way to unwind for a day.
10. Taste the rich flavors of beshbarmak
Kazakhs like to boast that only wolves eat more meat than they do. Out of respect for this carnivorous people, we round off our list of Top 10 Things to Do in Kazakhstan with beshbarmak, the beloved national dish of Kazakhstan. Beshparmak is piled high with tender chunks of boiled beef, horse or camel meat which is served with broth atop a platter of wide noodles. This hearty meal is the perfect dish to fill you up after a long day out on the steppes. Top off the meal with a cold bowl of fermented mare's milk, called kumis, and you just can't get any more Kazakh than this.