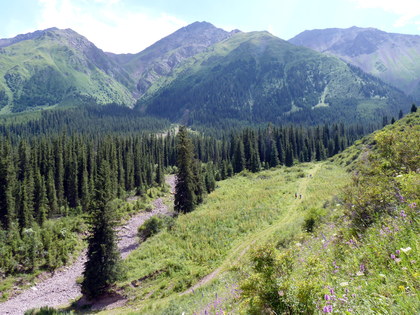 Possible from May till September in good weather.
Book One-day tour to Shamsi Gorge to explore picturesque gorges, ride a horse, learn a local life. You will visit Shamsi and Toru-Kajyn gorges, have a delicious lunch in a local family and enjoy fresh mountainous air.
Tour itinerary:
In the morning transfer from Bishkek to Shamsi gorge (110 km ). Meet our local guide with horses. The slopes of the gorge are covered with dog roses, barberry, mountain ash, juniper, and fir tree forest. This day you ride up toward to Shamsi pass towards Toru Kaiyn gorge (3-4 hours). Lunch in a local house. After lunch you will have chance to ride note far from the house. Transfer back to Bishkek.
Price includes:
All transfers;
Lunch in a local house;
English speaking guide;
Entrance fee to the national park. Camera/video fees are not included and paid separately;
Horse rent;
Horseman (1 for 4 people).
Price does not include:
Personal insurance;
Accommodation;
Tips are not included, but would be appreciated;
Breakfast and dinner in Bishkek.