Podlemorye, Lake Baikal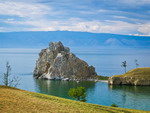 Ust-Barguzin settlement is a starting point for journey to Podlemorye. Territory of Podlemorye is a repository of Lake Baikal beauties and attractions. It concentrates three environmental zones: the Trans-Baikal National Park, Barguzinsky Reserve, Frolikhinsky Reserve - all of them are included in the UNESCO World Heritage Site of "Lake Baikal". The wide open spaces of Podlemorye includes such legendary attractions of Lake Baikal, as Chivurky Bay, Svyatoy Nos Peninsula, Ushkany Islands, Snake Bay, Sosnovka Bay with relict beaches, Khakusy area, famous for its thermal springs, and many other places that are worth visiting. The first point of the trip to Podlemorye, as a rule, is Trans-Baikal National Park.
Podlemorye - Where to go
Trans-Baikal National Park
National Park is a sartorial statement of Lake Baikal, a kind of Mecca for lovers of Lake Baikal natural beauty. The interesting thing is that a fairly small area, owned by National Park has collected a great variety of natural wonders. More...
Barguzinsky Reserve
A walk along a Barguzinsky Reserve shore is very picturesque and leaves a lasting impression. From one side there are Barguzinsky ridge foothills with canyon-like river valleys, sandy beaches and cliffs, while along the other side there is Baikal ridge - a chain of mountain tops covered with snow nearly all year-round. More...
Frolikhinsky Reserve
The main protected object of Frolikhinsky Reserve is a glacial lake Frolikha. It is home for rare fish species listed in the Red Book as endangered relict species - Arctic char from the salmon family. More...