Bolshiye Koty, Baikal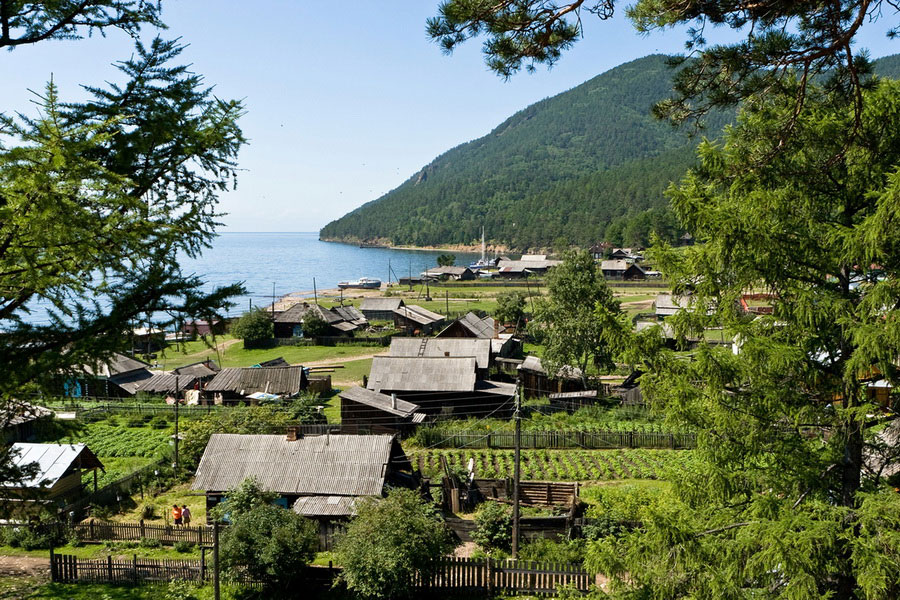 On the western Baikal lakeside there is a small quiet town with a funny name Bolshiye Koty, which has nothing to do with purring bushy pets.
The name refers to the settlement built in 1842 to accommodate the gold finders (called free miners). Gold mining those days was very difficult and dangerous, so it mainly engaged the convicts, who in cold weather used to wear wooden shoes, the ones - the "koty" (or "kotki"), pronounced with the first syllable stressed. It was estimated that over 160 kilograms of precious metal have been extracted during the whole period of gold mining carried out in Bolshiye Koty. Until 1968 the country's foreign exchange reserve was replenished by pure gold from the Baikal mines, including that of Bolshiye Koty. However, no one has undertaken to count the number of lives given for that gold.
By the way, there are some other, less gloomy speculations about the origin of the Bolshiye Koty name. For example, according to the V.I. Dal's dictionary "koty" is nothing but ordinary fish traps, installed at the mouths of rivers. And the semblable word "kottsy" in Siberia was used to call a wattle fence stretched across the river to catch cisco coming in the river to spawn.
To date, Bolshiye Koty is one of the most convenient and most visited towns of Lake Baikal, due to its proximity to Irkutsk and Listvyanka, and also to its isolation enough to allow conserving the local picturesque countryside. The number of resident population of Koty is almost one hundred people. In summer Listvyanka and Irkutsk can be reached by motor ship running once a day on weekdays, and twice a day on Saturdays and Sundays. There is also a walking route along a coastal path from Listvyanka to Koty, but it is considered dangerous and suitable only for experienced travelers. In winter, Bolshiye Koty can only be reached by car by a temporary motor road laid on the ice of frozen Lake Baikal.
Bolshiye Koty and its outskirts are a part of Baikal National Park. The Koty territory is surrounded by real Siberian taiga, notable for mushrooms and berries, herbs and various most rare species of wild flowers. All kinds of recreation available in the village, one way or another, are connected with walking and enthusiastic contemplation of nature, seeing that Bolshiye Koty abounds with all sorts of breathtaking beauties: you can go fishing, horseback riding by special horse routes, accompanied by experienced guides or take on hire a pedalo.