Attractions of Pskov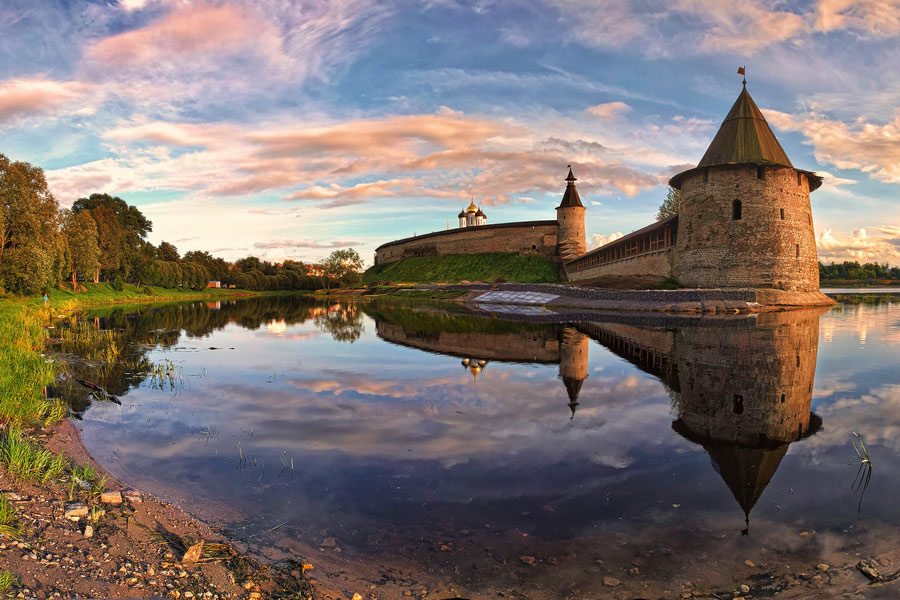 The architectural attractions of Pskov are widely-known not only in Russia, but also far beyond its borders: it has forty temples and churches, and about a dozen of monasteries, located in the most picturesque and enchanting places. This museum town enshrines the stories of bygone days in its fortress walls. People come there to enjoy the atmosphere of old times and see the best examples of medieval architecture.
The main Pskov attraction is the Pskov Kremlin (the Krom), an ancient fortress with one of the most beautiful Russian cities, sprang up around it almost 2000 years ago. The fortress territory includes Trinity Cathedral - the symbol of Pskov. Another well-known cathedral located in the Mirozh monastery and famous for its stunning frescoes by Greek artists.
Another interesting place in the city is the Pskov State United Historico-Architectural and Art Museum-Reserve "Pogankin Chamber". The stone building built in the 70- 80s of the XVII century and once belonged to a merchant by name Sergei Ivanovich Pogankin, houses now icons, silver from Pskov churches and monasteries, ancient books and manuscripts.
The main attractions of Pskov
Pskov Kremlin (Krom)
The Krom is the main attraction of Pskov - its architectural and historical center. This old building, majestically rising on a rocky promontory, is considered one of the finest examples of defensive architecture of ancient Russia.
Trinity Cathedral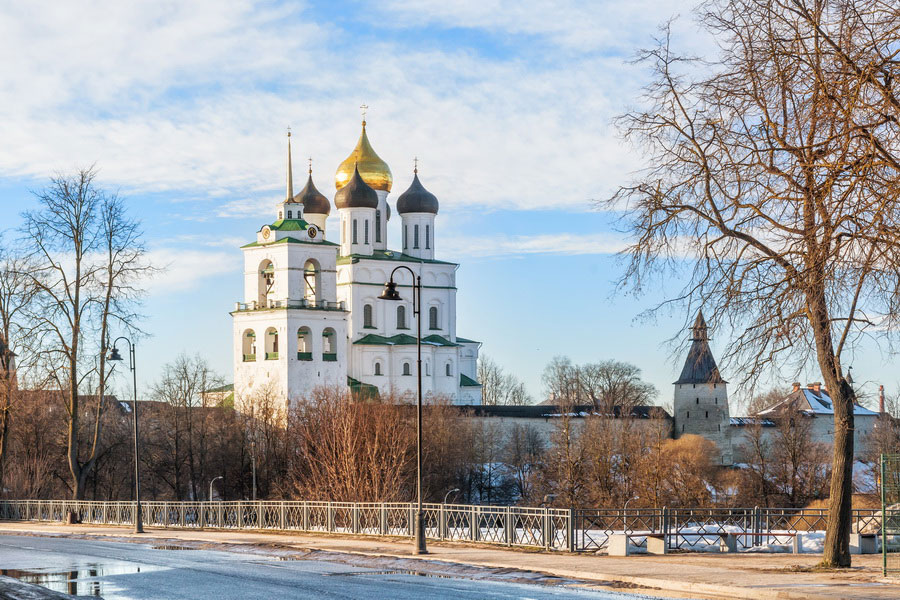 The Trinity Cathedral is located in the Krom territory and is the main shrine of Pskov, its heart and symbol. It is the cathedral, which can be seen from all parts of the city, where all the Pskov roads run to.
Spaso-Preobrazhensky (Holy Transfiguration) Mirozh Monastery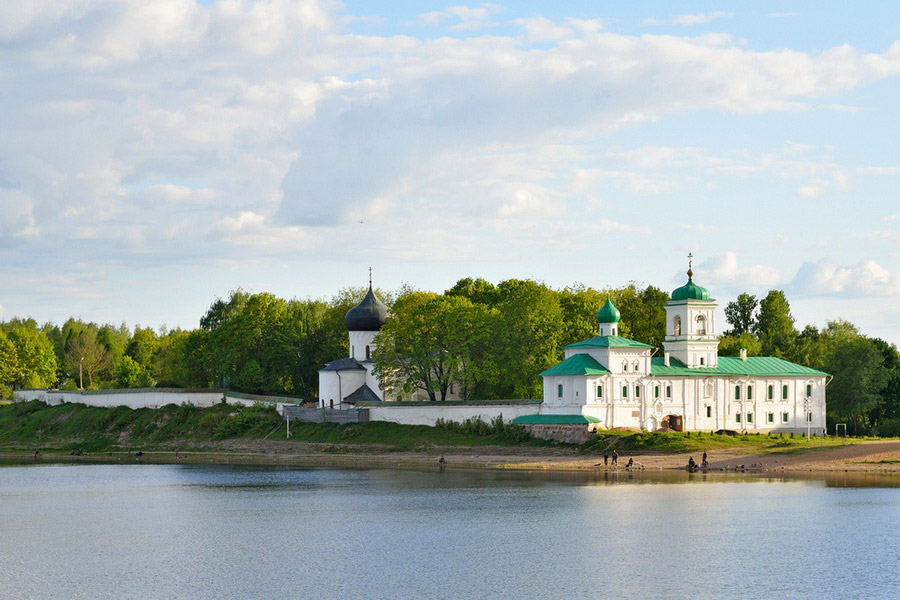 The Mirozh Monastery is located in Zavelich'e, outside the city's walls, on the Velikaya left riverbank. The cathedral, built in Greco-Byzantine style is famous for its unusual Mirozh frescoes of the mid-XII century - the magnificent wall paintings by Greek artists that have no analogues in Russian and Byzantine pictorial art of the XII century.
Cathedral of St. John the Baptist (Ivanovsky)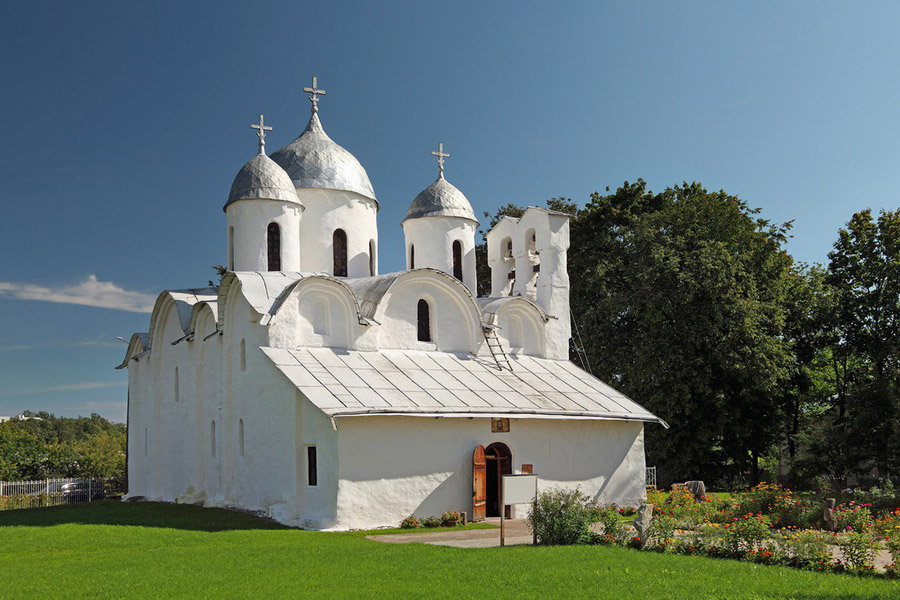 The Ivanovo, like the Mirozh Monastery is located in Zavelich'e. This is the city's ancient cathedral, crowned by three helmet-like domes, built in sparing minimalist style.
Museum-Reserve "Pogankin Chambers"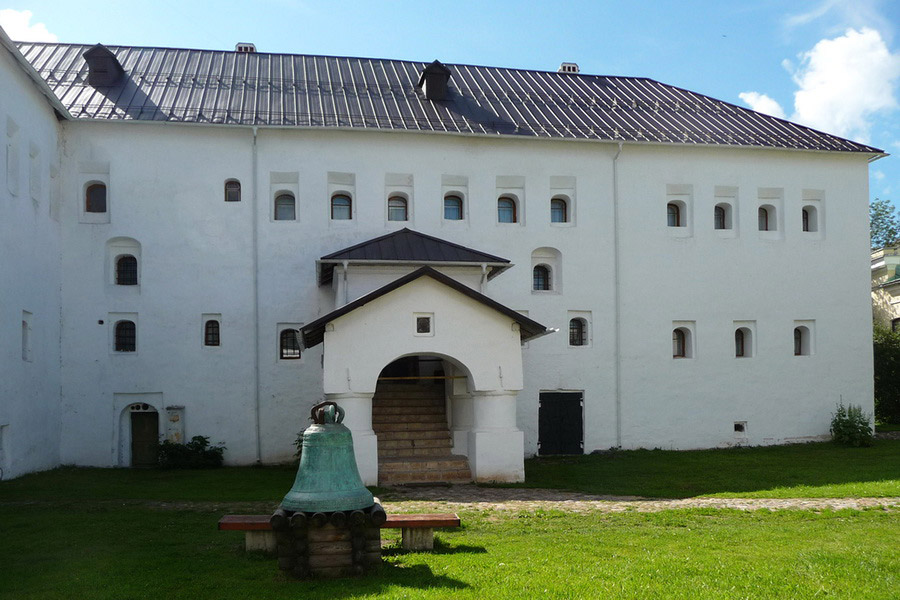 The Pogankin Chambers are the city's main museum, built in the 70-80s of the XVII century. It was erected by order of one of the richest men of Pskov, merchant Pogankin - the man with a lot of dark legends shaped about. One of them claims that the merchant received such a dissonant name from Ivan the Terrible himself - the tsar called him Pogany (bitchy) for his bad temper, arrogance and dishonestly acquired fortune.