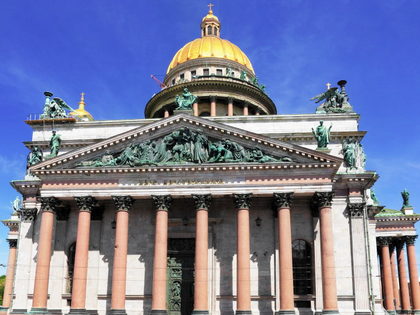 Tour itinerary:
We would like to offer visiting the St. Isaac's Cathedral in addition to the standard guided city tour.
The words glorifying the beauty of this cathedral have long crossed the borders of Russia. This jewel of architectural art enthralls the art connoisseurs all over the world. It is the pride and glory of St. Petersburg citizens. Majestic Isaac's, as most people call the cathedral, produces a gamut of emotions by its noble but at the same time luxurious appearance. The flawless silhouette of the golden dome clearly seen against the background of blue sky is a symbol of the Northern Capital.
To begin with, St. Isaac's Cathedral is one of the highest domed buildings in the world: its height is 102 m. The area totals 4,000 square meters; the interior capacity – 14,000 people. The diameter of its golden dome reaches 22 m.