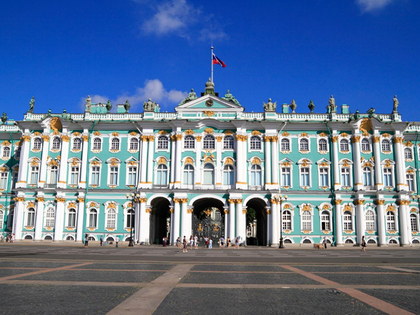 Tour itinerary:
We would like to offer visiting the State Hermitage in addition to the standard guided city tour.
You can spend all your life in the Hermitage - a major tourist attraction of St. Petersburg without finding out about all its masterpieces. The collection of the Hermitage is located in 350 rooms of the 5 museum buildings! Scientists have calculated that to fully appreciate all the exhibits of the treasures of world's art a person will need 15 years given the fact that he/she will spend less than one minute per each. For two and a half centuries the Hermitage acquired one of the largest collections of world's art of nearly three million artifacts representing various cultures from the Stone Age to the present day. The Hermitage is housed in the opulent Winter Palace, the Hermitage Museum contains the works of important masters such as Leonardo da Vinci, Michelangelo, Raphael and Titian. Admire the masterpieces of Rembrandt, Rubens, French Impressionists and also works of Van Gogh, Matisse and Gaugin.
The Hermitage Museum tour is a must for the art connoisseurs and tourists who visit St. Petersburg to explore its attractions.