Turkmenistan National Cuisine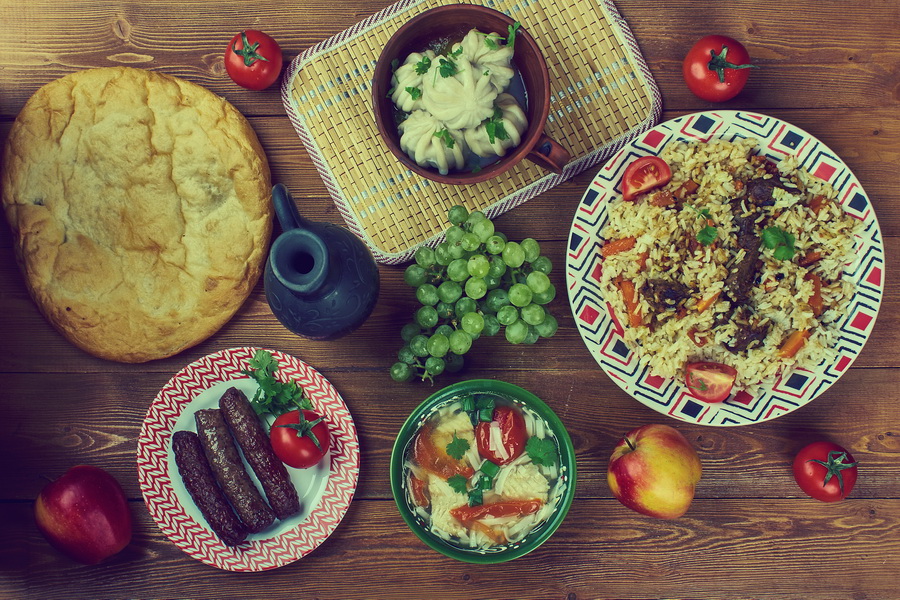 Turkmenistan national cuisine is distinguished by its richness of tastes and conglomerate of dishes inspired by international foods from around the world. The cuisine of Turkmenistan today is not limited to traditional Turkmen food, as dishes from other Central Asian countries and from Russia, Italy, France, America, Mexico, Georgia, North Ossetia, Dagestan, Korea, China and Japan can all be found at select eateries.
Traditional Turkmen Cuisine
Turkmen food remains the most popular cuisine in the country by far, as evidenced by the many cafes that offer national cuisine and the many Turkmenistan recipes which are still preferred in most local households today.
Popular dishes among the Turkmens include kakmach (cured meat), chekdirme (stewed lamb), yshtykma (stuffed poultry), kebapy (kebabs) and ash (rice pilaf). Favorite Turkmen soups include chorba (mutton soup with spices), gainatma (pea soup) and etli-borek chorbasy (soup with dumplings).
The Turkmens have a special love for national pies such as ishlekli (meat pie), gutab (thin dough stuffed with greens), fitchi (mutton pie), etli-chorek (bread stuffed with meat) and various flatbreads.
Turkmenistan national cuisine is rich in fish dishes, a feature which distinguishes it from nearly all other Central Asian states. Various stews, kebabs, dumplings, soups and even pilaf are made from fish and are particularly prominent in local Caspian Sea cuisine.
Mention must also be made of Turkmen melons, which are famous far beyond the country's borders.
International Cuisine in Turkmenistan
Asian Cuisine
Asian cuisine in Turkmenistan includes Chinese, Japanese, Korean, Turkish, Indian and Central Asian dishes.
Central Asian cafes in Turkmenistan are very popular. Some of the most common dishes include Uzbek pilaf, kebabs, manty dumplings and samsa pastries; Kazakh national foods such as sorpo and naryn soups; and standard Turkmen fare including chekdirme and fish dishes.
Uzbek cuisine often coexists with Turkish food so that in one café there may be Uzbek pilaf, manty and samsas served alongside Turkish kebabs, kofte meatballs and pizza-like pide. Yet there are also many exclusively Turkish restaurants where you can try lentil soup, lahmacun meat bread, pide, kebabs, simit bagels, menemen omelets, various doner wraps, sujuk sausage, Turkish delight, sweet baklava and more.
Due to the popularity of Japanese cuisine in Turkmenistan there are now many restaurants which specialize in teriyaki chicken, vegetable and seafood sushi, soups, salads and onigiri rice balls.
Korean cuisine in Turkmenistan is represented by glass noodle dishes, kung pao chicken, pigodi dumplings, jajangmyeon (noodles with black beans), a variety of salads, kuksi cold soup and kimbap rice rolls.
Indian restaurants in Turkmenistan promise chapati flatbread, dhal lentils, curry beans, tandoori chicken, thali platters, palak paneer (cheese and spinach dish) and biryani rice.
Chinese cuisine is less popular in Turkmenistan, but there are several eateries in Ashgabat where you can try hot pot, pasties with funchosa noodles, special salads, offal, udon noodles and specially seasoned meat, fish and tofu dishes.
European Cuisine
European cuisine in Turkmenistan is represented by Italian, French and English favorites and even by American, Russian and Mexican meals.
The most popular Western foods in Turkmenistan are Italian and American dishes, which can be tasted in specialty restaurants and in cafes offering international cuisine. Italian fare includes different types of pizza, panini and pastas as well as salads, risotto, soups and meat dishes. American cuisine usually connotates burgers, steaks, barbecue and chicken wings.
French cuisine in Turkmenistan includes classics such as croissants, quiche, onion soup, nicoise salad and clafoutis (fruit dessert), all of which can be found at specialty restaurants.
Russian foods are available in all restaurants where European cuisine is offered. Boiled and steamed dumplings, meat and potato pastries, crepes, cutlets with mashed potatoes, herring under a fur coat salad, pickles and tomatoes, borscht beetroot soup, okroshka cold soup and fruit drinks are all standard Russian foods in Turkmenistan.
Mexican foods including burritos, quesadillas, nachos and tacos can even be tasted in several cafes in Turkmenistan.
Irish and English cuisines are less common in Turkmenistan, although meat puddings, Wellington beef, fish and chips, Irish meat, shepherd's pie and potato pancakes are offered in select pubs.
Caucasus Cuisine
Turkmen cuisine has absorbed some of the most delicious dishes of Georgia, Dagestan and North Ossetia. Nearly all Caucasian cafes in the country serve up meals including Georgian and Dagestani khinkali dumplings, Caucasian borscht, skewered quail, kharcho soup, badrijani eggplant appetizer, Ossetian pies and other dishes.
Turkmenistan tours are an opportunity to get acquainted with Turkmen national cuisine. In 21st-century Turkmenistan this means not just the fine flavors of original nomadic fare but the culinary delights of neighboring Central Asian countries, the tang of China and Korea, the delicacy of Japan, the juiciness of the Caucasus, the romance of Italy, the spice of Turkey and the sophistication of France.