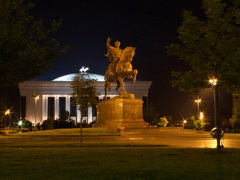 Choose this tour to make the most of a few free hours in the evening in Tashkent, exploring this modern yet historical city. From the pristine white of Minor Mosque to the lively local Broadway, lined with cafes and entertainment, the Tashkent Evening City Tour is a great introduction to life in Uzbekistan's capital.
Tour itinerary:
Meet your guide at your hotel at 20:30 to start the evening sightseeing. Take a taxi to Minor Mosque. After walking around it (at about 21:15), you will take a taxi to fountain in front of Navoi Opera (works from 18.00 till 22.00, from May to September). Then you will walk towards Broadway, locals call it Broadway for entertainment, cafes and arts along the road, and then to Amir Timur Square. Finish the tour at Forum Palace. At 22:45 take a taxi to your hotel. End of the tour.
Walking distance around 2 km.
The tour is available all year round, but subject to a good weather conditions.
Price includes:
Guided sightseeing tour;
Taxi.