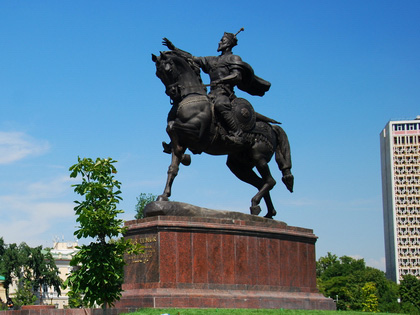 Book the Tashkent Layover Tour to make the most of a few hours in the capital of Uzbekistan. This transit tour touches the top tourist sights: Khast-Imam Complex, where one of the oldest Qurans in the world is kept; Chorsu Bazaar, a vital hub and trading post; and the Tashkent Metro, the oldest in Central Asia. Enjoy lunch in a local restaurant, strolls through some of the biggest squares in Tashkent, and finish your tour back at the airport.
Tour itinerary:
The guide and the driver will meet you at Tashkent International airport. Tashkent layover tour starts with a visit to Old City part of Tashkent where you will explore Khast-Imam Complex and Chorsu Bazaar. Then you will take a metro ride to the city center to walk through Amir Timur Square and Independence Square. Drive around the city. Minor Mosque, State Opera and Ballet Theatre are optional sights, if your layover allows. During the tour you will have lunch in a local restaurant. The driver and guide will round up the tour bringing you back to the airport.
The program usually takes 4-5 hours, but easily customised upon your request.
Price includes:
Guided sightseeing tour;
Entrance fees to the museums, mausoleums and other sights;
Transport throughout the tour;
Lunch.