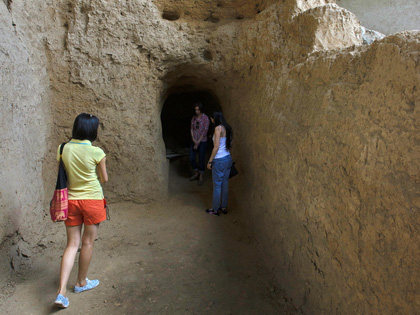 If you are in Tashkent and want to discover off the beaten path sights that even majority of locals are not aware of, take a specially developed tour to the ancient settlements of Tashkent. You will visit the remains of ancient temples and fortresses, built thousand years ago, next to modern buildings. Make the picture of the capital city full in your mind with the highlights of the tour, where contemporary life embraces history.
Tour itinerary:
Start the guided sightseeing city tour to the ancient settlements of Tashkent. Drive to the archaeological excavations of Aktepa Yunus-Abad ("ak-tepe" in Turkiс means "white hill"), built in the 5th century AD. It protected Tashkent against invasions from the north up to the 8th century. Archaeological researches attest that the complex also included the most ancient Zoroastrian temple in the past.
Continue to the next ancient settlement Ming Urik in the city center. Ming Urik translated as thousands of apricots received its name from the large apricot garden laid out there in the past. In ancient times the settlement had the area of 43 hectares, but the major part had been destroyed as buildings started to raise leaving only a 16 m high hill. In 2008 archaeological researches concluded that once there was a fire temple. Age of the temple enabled to state that Tashkent was 2200 years old.
The next is Aktepa Chilonzor settlement. It was found that the number of rooms and buildings of the Aktepa Chilanzar is equal to 29. Archaeologists relate it to the lunar calendar, which counts 29 days in a month.
The last, but not the least settlement is Shashtepa located in the southern part of Tashkent. In ancient times there was a fortress to protect the place against invasions from the south. Today it has preserved only a 12 m high citadel. Like Ming Urik, here remains of the fire temple were found.
Return to Tashkent and visit History Museum, one of the oldest museums of the Central Asia. Transfer to the hotel. End of the tour.
Duration of sightseeing tour: 4-5 hours

Prices:
| | | | | |
| --- | --- | --- | --- | --- |
| Number of travellers | 1 | 2 | 3 | 4 |
| Price per person, USD | 90 | 55 | 55 | 40 |
| Winter price: Nov-Feb | 65 | 40 | 35 | 30 |
Price includes:
Guided sightseeing tour;
Entrance fees to the museums, mausoleums and other sights;
Transport throughout the city tour.