Geography - Relief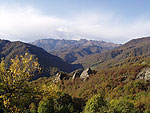 Armenia occupies the territory of Armenian uplands, consequently, its relief is basically mountainous and consists of numerous high mountain ridges (about 47 % of the territory), intermountain hollows, extinct volcanic mountains, plateau and plains. The features of nature are reflected in the Armenian legend: when the God created the earth it turned out too stony. The God did not like it. So He gathered all stones in one pile and asked the people created by Him: who wants to live there? All refused but Armenians who are still proud of it.
90% of the territory of Armenia is located at height from 1,000 m above the sea level and higher. The highest point of Armenia is the top of Mount Aragats (4,090); the lowest is in the gorge of the river Debed (380).
From north and east Armenia is framed by the ridges of the Small Caucasus. In the central part of republic are situated the Aragts, Pambak, Geghama, Vardenis and Zangezur ridges criss-crossed by a network of valleys and deep gorges.
The country's southwest is occupied by rather flat Ararat Valley (average height - 850-1000 m) in which the majority of large settlements of the country is concentrated.
The country's southeast is beautiful with magnificent mountain landscapes. Mountain valleys and plateaus, narrow gorges, rapid rivers, small lakes and the picturesque villages which are literally stuck to the hillsides are the main attractions there.
It is worth mentioning that the country's territory is framed by over 3,000 km of mountain ridges. But orogenic processes in this area are not finished yet, therefore earthquakes are frequent there. Only in the 20 th century the territory of Armenia experienced six significant earthquakes. The last of them – Spitak earthquake occurred on December 7th, 1988.