Geography of Armenia - Rivers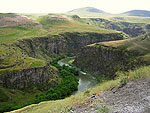 Armenia is not rich in water resources despite having quite a network of rivers – they are rather small. All in all there are more than three hundred rivers of 10 km and longer. Some of them cut deep gorges and canyons in steep stony rocks. The majority of rivers in Armenia are the inflows of the river Araks – one of the largest rivers in the Caucasus flowing across entire Georgia and running into the river Kura on the territory of Azerbaijan. The big inflows of Araks on the territory of Armenia are the Akhuryan, the Kasagh, the Razdan, the Arpa and the Vorotan. The rivers Debed, Agstev and Akhum are the right inflows of the Kura running into the Caspian Sea. Some Armenian rivers belong to Lake Sevan basin.
The rivers are fed with thawed, rain and subsoil waters. In spring the rivers become rapid and deep. And in the middle of summer the rivers get shallow and in the autumn their levels will rise at the expense of rain water.
The Longest Rivers:
Araks – on the territory of Armenia - 158 km (total length - 1,072 km)
Akhuryan - 186 km
Vorotan – on the territory of Armenia - 119 km (total length - 179 km)
Debed – on the territory of Armenia - 152 km (total length - 178 km)
Razdan - 141 km
Agstev – on the territory of Armenia - 99 km (total length - 133 km)