Armenian Traditions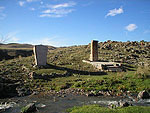 It goes without saying that people united by national consciousness and culture try to leave their lives reverently worshiping the ways and customs of their ancestors. Armenia has managed to save its true spiritual riches - religion, culture and national centuries-old traditions which they strictly observe both in times of joy and in grief. Today such traditions as marriage stability, honoring of elders, strong ties among relatives, mutual readiness and help and of course hospitality have been preserved.
Wedding
Armenian wedding is a very big holiday. The ceremony includes betrothal, engagement and wedding itself. The tradition of "seven days seven nights" celebration has become obsolete. The abundance of guests at Armenian wedding is a must. Read more...
Birth of Child
Traditionally (especially in rural areas) Armenian families have a lot of children. A birth of a child, especially a boy, is a happy event which has always been welcome. Read more...
Hospitality
The hospitality of Armenian people is known all over the world. Read more...
Funeral Customs
National funeral customs ethics of honoring the memory of the deceased has been preserved I Armenia. The ceremonies are arranged on the day of funeral, the next day, on the 7th day, the 40th day and the anniversary of death. Read more...
National Holidays
The holiday called "Trndez" is celebrated in the end of winter. This holiday came from pagan times of fire worshiping. Right in a church court yard they set a big bonfire and a newlyweds jump over it to get rid of evil, arrogance and misfortunes. This day in Armenia marks the beginning of spring... Read more...
Traditional Dwelling
Traditional houses in Armenian settlements have a number of distinctive features. The dwelling is usually a square building with stone walls and dirt roof supported by wooden columns. A window or a smoke duct in the roof was the only source of light. Read more...
Traditional Clothes
The traditional Armenian clothes are very colorful and various. The traditional man's suit consisted of silk or cotton color shirt with low collar and side fastener and wide trousers from dark wool or cotton. Over the shirt Armenians put on cotton or silk arkhaluk – outerwear with low collar fastened waist down with hooks or small buttons. Read more...