Armenian Traditions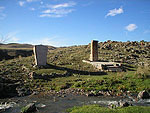 Armenia is a warm and rich country, and Armenian traditions are no exception. From welcoming guests to celebrating life, Armenia's traditions make this country a wonderful place to visit. Before you visit, it's well worth it to read up on the traditions of Armenia so you know better what to expect and to give you context for all you'll see. While you may not attend a childbirth or wedding, you'll be sure to see some traditional Armenian clothing and houses, and a real highlight of any trip is Armenian hospitality.
Wedding
Armenian weddings are big celebrations, and though they don't last days like they used to, they're still quite big. Guests are invited, presents are bought, and food is cooked, all so that everyone can gather and celebrate the health and success of the new couple. Some gifts have a symbolic meaning, meant to ensure that the couple has healthy children and a long life. Read more...
Birth of a Child
Lots of children is the norm for Armenian families, so Armenian traditions surrounding childbirth are well loved. Lots of celebrations surrounded the birth of a baby, both at home and at church, but the baby itself was kept secluded from the world for its first 40 days. Read more...
Hospitality
Any visitor to Armenia can tell lots about Armenian hospitality. Drinking and eating are the most common ways to welcome guests, so expect a table set to the fullest. Read more...
Funeral Customs
Funerals in Armenia are a time to remember the departed and to gather with loved ones. Gatherings may be as short as a single day, or can stretch for as long as 40 days after the death of a loved one. Read more...
National Holidays
Armenia's holidays are a mix of old traditions dating back to pagan times, Christian religious holidays, and modern additions. Some holidays are international, like New Year's and International Women's Day, and can be celebrated in Armenia and around the world. Some holidays show off Armenia's local traditions, like Vardavar and Terendez. And even though they're much newer, holidays like Victory Day and Republic Day tell a lot about Armenia's recent history. Holidays in Armenia are a great way to experience a bit of local culture yourself and take your trip to Armenia to the next level. Read more...
Traditional Housing
Armenian houses are an important part of traditional culture. They're a representation of all different elements of Armenian traditions together in one place. Visitors can see family traditions, food culture, handicrafts, and more by visiting traditional Armenian houses. Read more...
Traditional Clothes
Traditional Armenian clothing is quite varied and colorful. While you may not see much traditional clothing on the streets today, festivals and holidays are a great way to learn more about clothing in Armenia. Look out for different types of hats, scarves, and jackets, plus plenty of bright colors and unique patterns. Read more...