Armenian Wedding Traditions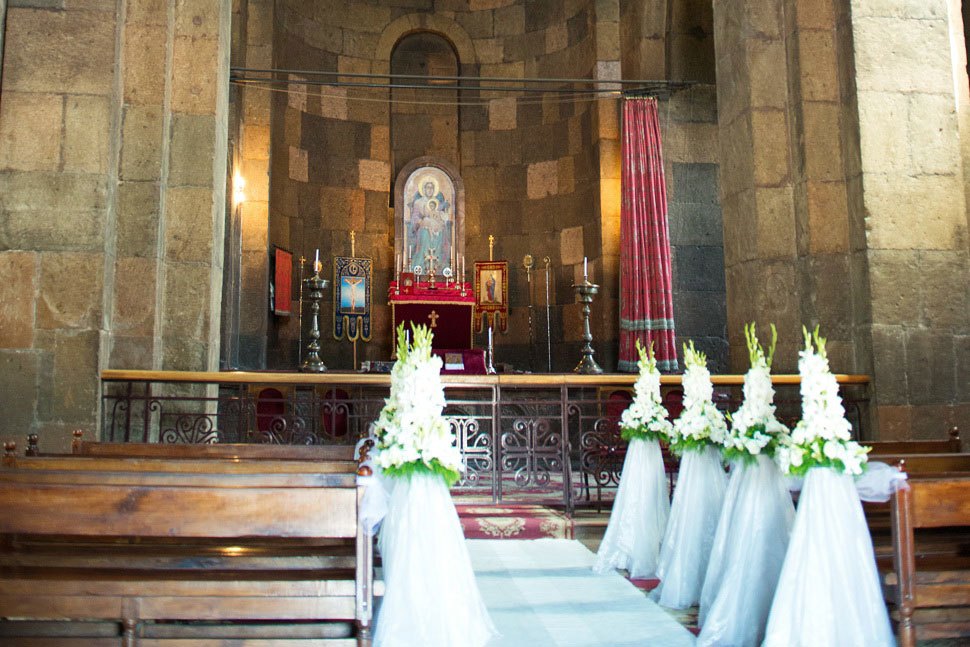 "May you grow old on one pillow "
Armenian wedding traditions form the basis of one of the most important events in traditional Armenian communities.
The magic begins at the engagement party. After a couple has decided to get married, the groom's family visits the bride's family to ask for her hand in marriage. In olden times, the groom would be routinely rejected once or twice before the bride's family finally said yes.
The wedding day itself starts early in the morning when the groom and his relatives go to the bride's home with flowers, decorated fruit baskets, sweets, wine, Armenian brandy, shoes and perfume. Upon arrival, they are treated to a delicious feast.
According to one of the oldest wedding traditions in Armenia, the godparents of the groom must pay a ransom for the bride before he is allowed to see her. In another fun tradition still observed at weddings today, one of the bride's shoes is stolen as she is getting dressed. After long negotiations and joyful bargaining, the shoe is returned to the young lady, often with money inside as a symbol of wealth.
The ceremony at the church is one of the most important Armenian wedding traditions and is followed by a celebration at the bride's house or a restaurant. Before entering the building, however, the newlyweds must first break plates with their feet.
Armenian weddings are always punctuated with loud music and dancing. One of the most traditional parts of the celebration is a dance called sabbath. During the sabbath dance, guests gather around the bride and slip money into her hands while she dances, an interaction which symbolizes abundance in the newly formed family.
Among the more tangible weddings traditions in Armenia are the small souvenir boxes for guests, called tarosiki. The boxes symbolize love and are personally handed out to single guests by the bride and groom in order to wish their happiness upon the recipients. According to local belief, single girls who receive tarosiki can expect to see their future husband in a dream the following night.
During the wedding celebration, which continues late into the night, guests enjoy delicious food, music and dancing. They all take turns wishing the couple happiness through the recitation of colorful, poetic toasts, the most beloved of which is "May you grow old on one pillow!"