Armenian Wedding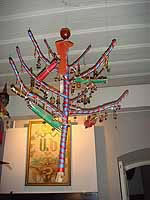 Armenian wedding is a very big holiday. The ceremony includes betrothal, engagement and wedding itself. The tradition of "seven days seven nights" celebration has become obsolete. The abundance of guests at Armenian wedding is a must. The so-called "God family" act as witnesses.
As a rule, they are the closest married couple known by the groom and the bride. The God family must be an exemplary couple. The Godfather is to bring the most expensive wedding gift. By the way, giving presents is a separate ceremony. The relatives of the groom and the bride and the guests give the newly-married couple jewelry, fabrics, household goods, and money.
Wedding is accompanied by a number of various cheerful ceremonies. During the redemption of the bride any amount of money can be asked, and it's a matter of Godfather's honor to find this money; the sums are symbolical, though. The bride is taken to the altar by her sponsor and God family bear responsibility for the new family from the very beginning to end. At the wedding the bride is given a boy to cuddle – it is desirable that first-born is a boy. Next morning after the wedding women related to the groom bring a red apple symbolizing the virginity to the bride's home.