Funeral Traditions in Armenia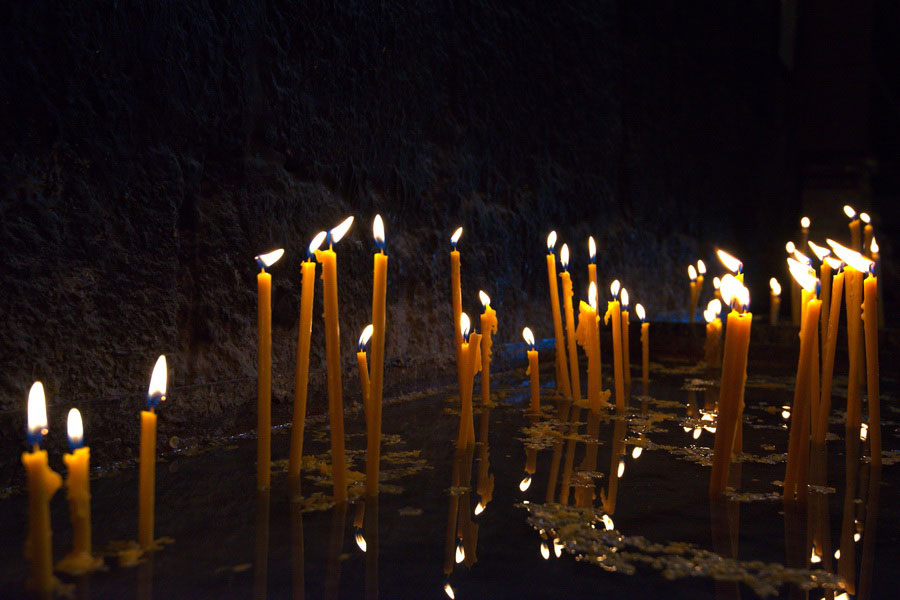 Funeral traditions in Armenia are rooted in ancient beliefs regarding death and the afterlife. Many Armenians believe that each person has a predetermined destiny which is inscribed on their forehead and referred to as tchakatagir. According to local belief, on the day of death an angel descends to take the soul, which leaves the body with the person's last breath.
Armenian funeral traditions which aim to drive evil forces out of the house are still observed by many people. After someone dies, the clocks are stopped in the house, all mirrors are covered and the hands of the deceased are tied up. While the corpse is in the house, no one should wash clothes or work in the garden, as this can attract the attention of the Angel of Death. In addition, since it is considered unsafe to leave the coffin unattended until it has been removed from the house, someone must sit near it and ensure that a lighted candle remain burning at the head of the bed.
It is customary to put the lid of the coffin at the door of the home to inform neighbors and passersby of the death. In some regards, Armenian funeral rites resemble those observed in other Orthodox Christian nations. A priest invited to the house reads a prayer over the deceased and blesses the water for ablution. Before the funeral, which as a rule is held on the third day after death, relatives and friends visit the house to say goodbye to the deceased.
If customary funeral traditions in Armenia are observed, the coffin is circled three times counterclockwise before the hand of the deceased is kissed in a final tribute of respect. Just before carrying the coffin out of the house, men lower and raise it three times and hit it three times against the closed front door of the home. It is believed that the Apostle Peter, "Keeper of the Heavenly Gates", will hear these knocks and open the gates of heaven to the departed soul.
After the funeral service, the mourners visit the family of the deceased. Before entering the house, hands and shoes are cleaned with water or a wet towel. Traditionally, the table is set with khashlama (stewed mutton or lamb with vegetables) and kurkut (wheat grits cooked with mutton or beef), as well as various sweets and fruits. The only alcoholic beverages permitted are vodka or cognac, and that must be drunk in moderation. Commemoration ceremonies are held on the 3rd, 7th and 40th days after death as well as on the 1st anniversary.