Vacation in Armenia

Top 10 Things to Do During Vacation in Armenia
Everything in life happens for a reason. It was not a coincidence that Noah's ark found itself on the Mount Ararat after the Flood. Beautiful land, ancient culture, exquisite cuisine, artistic people and many interesting places and activities for vacation in Armenia.
So, here are 10 "must do"s in Armenia.
1. Take a photo/selfie in front of the Mount Ararat.
Although the holy mount is now on the territory of Turkey, Armenians consider Ararat as a symbol of their state. Thus, one can see the image of Ararat on almost everything: from postcards to cognac labels. Anyone in Armenia can tell you where it's best to take a photo with Bible Ararat on the background to capture it completely from foot to top in a good weather.
2. Taste and buy Armenian cognac.
It's even better to visit a famous Yerevan cognac factory that stores barrels of cognac dated from 1887 in its basements. Armenia grows six varieties of grapes. You should definitely bring along one of the most popular souvenirs from Armenia – branded Armenian cognac.
3. Climb the Yerevan Cascade.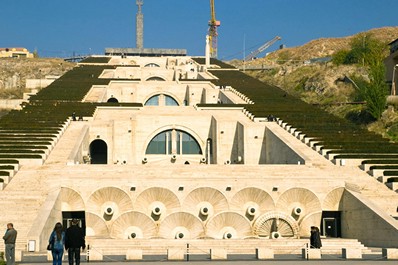 Construction of architectural complex of Cascade in the capital city of Armenia began in the 70's of the last century and is still in process. Many-tier Big Cascade and its system of huge stairs remind the Tower of Babel. From the city centre that lies in the lowland, it goes up high into the mountains. The one who gets to the view point of the Cascade will get a fantastic panorama of Yerevan.
4. Bargain on Vernissage.
You can buy anything on Yerevan Vernissage, and not only paintings as you might have thought as the name hints. Of course, there are many paintings of local artists available for sale, but national souvenirs and icons, percolators and coffee machines, cheap substitutes and expensive antiques are also offered. And remember – bargaining on Vernissage is a tradition!
5. Try out khorovats.
For some reason, many people think that 'khorovats' is a vegetable seasoning to shashlick (barbecue), though in Armenian it actually means shashlick. Barbecued shashlick barbecued is called 'karsi khorovats', cooked in a brazier 'khazani khorovats'. All in all there are more than two dozens of varieties of shashlick in Armenian cuisine that are served with greens and vegetables. Just try them all during your vacation in Armenia.
6. Buy an Armenian carpet.
Carpet weaving is the oldest craft mastered by Armenians. Carpets were used for tables, chests, seats and beds. Carpets often served as curtains in the doorways and altars in temples. You can both an old carpet and a new one in the factory where it's possible to make the one to your taste. Just in case for the customs check at the airport, keep the receipt of purchase of a new carpet to prove it doesn't have any historical value. If you buy an antique carpet, then make sure you have the certificate permitting you export.
7. Take a swim in the lake Sevan.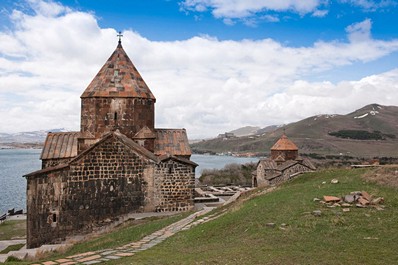 Mountain lake Sevan, that local people name as the sea, is fed by 28 rivers and only the River Razdan (alternate title Hrazdan) flows out of it. It has to be a one-day trip to the lake to visit a monastery complex Sevanavank, enjoy smooth surface of the lake that changes colors from turquoise blue to silver, swim in the lake-sea and do some fishing. The territory around the lake is a reserve zone of the National Park.
8. See the church built on the money of Nero.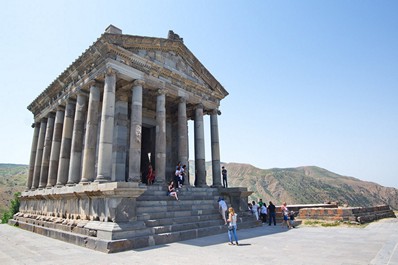 Armenian King Trdat I built a Garni temple in the 1st century on means given by a Roman Emperor Nero. Garni is an original sample of Hellenistic architecture, reminds a famous Parthenon and is adorned with 24 columns. Archeological complex Garni includes ruins of the fortress, remains of the palace complex, Roman baths with its mosaics on the floor and the temple itself where people worshipped Mitra, the God of Sun.
9. Enjoy the sound of duduk
High pitched sad sound of the ancient wind-instrument has become familiar to masses. Duduk that used to be played at birth and christening ceremonies, weddings and funerals, had entered the musical mainstream and can be heard in albums of Paul McCartney, Peter Gabriel and Sting, in films 'Gladiator', 'The passion of the Christ', 'Da Vinci Code', series 'Game of Thrones'. It is a must to hear how duduk sounds on its mother land.
10. Visit Dilijan
A small resort town has a long history, and is famous for its mild climate, many sanatoriums and high-class hotels. Dilijan is the best place for a vacation in Armenia. Locals like to joke saying that the crystal clean spring waters of Dilijan are on the second place in the world. Also in Dilijan they make the most delicious dolma – an Armenian dish made of grape leaves.