Cathedral Church of the Blessed Virgin Mary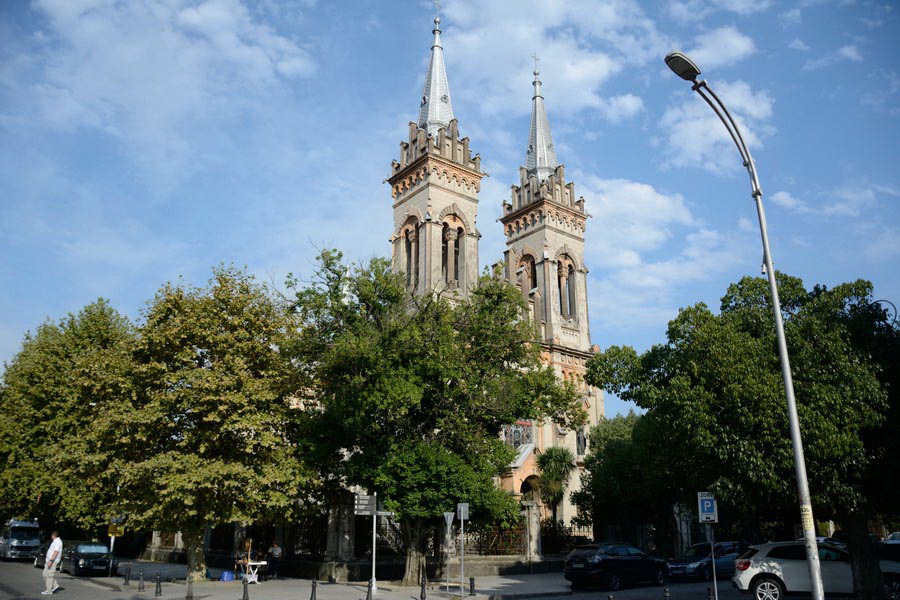 The building of the magnificent Church of the Blessed Virgin Mary (Nativity of the Most Holy Mother of God) is the first thing that opens before travelers when looking at the Batumi panorama. This cathedral has a rather tragic history, since it was reconstructed very often during the Soviet period and was operated sometimes ignoring its important religious and historical significance.
The cathedral was built 1898-1903. It is sometimes mistakenly included with an Orthodox church and almost nobody remembers that initially it was built as a Roman Catholic Church. When Adjaria was annexed by the Russian Empire a flood of foreign citizens, among whom there were representatives of different nationalities many of which professed Catholicism, rushed to Batumi. Since there were no catholic temples in Batumi in the XIX century, then the representatives of this religion applied to the authorities with a request to build a church there.
The temple was built on the donation of the believers themselves but one of the main investors was the rich petroleum producer Stefan Zubalashvili. Thanks to his efforts the construction of the temple was completed in 1902 and in 1903 it was consecrated.
After the revolution when Georgia became a part of the Soviet Union, the temple was confiscated by the government and used for various administrative and economic needs. The Georgian community and believers were fighting for a long time to have the Church of the Blessed Virgin Mary back. The great Georgian writer Konstantin Gamsakhurdia supported the initiative and the famous film director Tengiz Abuladze mentioned this situation in his film "Repentance" which fact added a nation-wide importance to this problem.
The Georgian intelligentsia and community managed to achieve the restoration work in the temple to begin and also the temple to be returned to the Orthodox Church. On 16 May 1989 the Batumi Church of the Blessed Virgin Mary was consecrated by Elijah II, the Catholicos-Patriarch of all Georgia. A festive baptism took place in the course of which 5000 people were baptized. The Batumi Church was given a status of Cathedral church.
The Batumi cathedral church is one of the most beautiful ones in Georgia, built in the Gothic style. From both of the sides of the main entrance there stand statutes of apostles. Today the debates are under way whom these statutes belonged to: St Andrew the Apostle and Simon the Cananaean or St. Maria and Joseph. A unique characteristic of the temple is its large stained glass windows which can compete in beauty with the best example of French gothic architecture.