Victory Day in Kazakhstan
9 May - Victory Day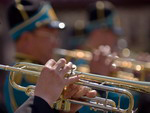 The Day of Victory over fascist Germany in World War II of 1941-45 is one of the holidays, most respected in the world. This holiday is a day off in many countries and in particular in Kazakhstan.
Victory Day is celebrated on 9 May because it was the day when the act of unconditional German surrender was signed at 01:00 Moscow time. This holiday was celebrated for the first time in 1945 when Moscow organized the Victory Parade in the Red Square. From this moment every year solemn military parades and marches are held on 9 May in all cities and states of post-Soviet countries.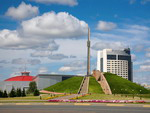 This day military units and schools are marching along the cities' streets to military memorials or monuments to perished soldiers to lay flowers on the tombs of war heroes. This tradition reached our days.
People of Kazakhstan pay a great attention to this holiday since this date symbolizes the protection of the Motherland and people from enemies. Furthermore a lot of Kazakh people died defending their Motherland.
The Republic of Kazakhstan celebrates Victory Day two days – on 9 and 10 May. During the whole month charity events are held. On 9 May all the educational and cultural institutions of Kazakhstan hold numerous festive events dedicated to the memory of the war heroes. The country's government organizes meetings and talks with war veterans for the new generation to remember their history. Furthermore the government renders regular assistance to all veterans of the World War II and hold festive events for them.