Bishkek sights, Kyrgyzstan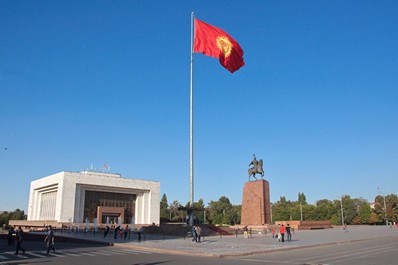 Bishkek is a relatively young city, whose history numbers less than 200 years that is why there are no medieval monuments, but during this time a small fortress has managed to develop into a city with the population of 800,000 people. There, the guests can take an interest in museums, parks and monuments that illustrate the history and culture of the Kyrgyz Republic and its capital.
Besides, Bishkek is a green city - it has 20 parks and huge Botanical Garden. In the capital's outskirts (about 2-hour drive), there are picturesque gorges, where you can relax in the lap of nature amidst the snow-capped peaks, or take a challenging trek, which will reveal incredible natural landscapes of Kyrgyzstan to you.
Bishkek sights
Ala-Too Square
The country's main square - Ala-Too Square is located in the center of Bishkek, as in any major city in the world. This is a favorite place for people to hold street festivities, festive occasions, meetings, etc. More
Oak park
Oak Park is almost of the same age as the city itself. The first oak trees in the future park in the area of 2,5 ha were planted as far back as 1890 by Agricultural School students, directed by botanist A. Fetisov, who came to Pishpek from Russia. More
Botanical Garden
The huge Botanical Garden, a part of the National Academy of Sciences of Kyrgyzstan, is the jewel in the crown of Bishkek and one of its most beautiful places. Established in 1938, today it ranks first in the biodiversity of species in Central Asia and the CIS countries. More
Monuments of Bishkek
Respect for the culture and history of Kyrgyzstan is expressed by various memorials and monuments that remind the Bishkek residents about the great personalities that made considerable contribution to the development of the country. Monuments to prominent figures, folk epic heroes, as well as to significant events are established throughout the whole city. More
Theatres and Concert Halls in Bishkek
Among other things, Bishkek has many places for cultural entertainment - the capital has several theaters where performances from Kyrgyz and world dramaturgy are staged. Basically, the performances are staged in the Russian and Kyrgyz languages, but some theaters have performances in foreign languages. More
Attractions in Bishkek outskirts
A short 2-hour drive from the city, there are picturesque gorges with rapid rivers taking off from the snowy peaks and the air is filled with pine scent. There you can feel refreshment of mind and body. The Burana Tower, a XI century monument, located in a picturesque valley deserves special attention.