Alamedin Gorge, Kyrgyzstan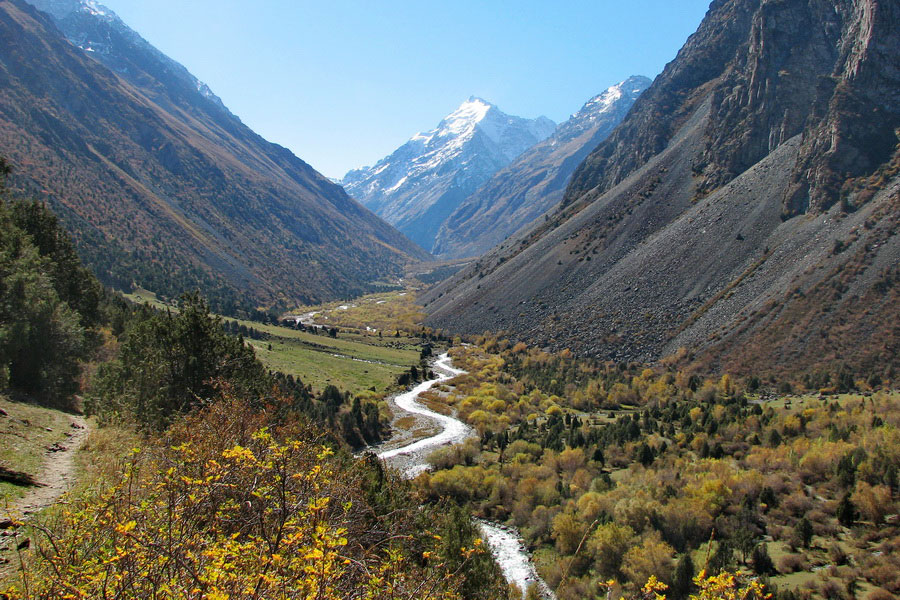 The Alamedin Gorge is one of the most famous in Kyrgyzstan. It is located near Bishkek. The river of the same name passes through Alamedin, which crosses the capital of Kyrgyzstan. The most convenient way to get into the gorge is through the village of Koi-Tash.
The Alamedin Gorge is located at an altitude of 1800-2000 meters above sea level. There are waterfalls, many trees and shrubs, a birch grove, as well as stunning panoramas of mountain peaks. The most famous: Aitmatov Peak and Kyrgyzstan Peak. Hundreds of animals and birds live in the gorge. In summer, horses and sheep graze on green meadows, which are driven by shepherds. There are also dozens of medicinal plants growing here, which are usually collected, dried and added to tea.
Hiking in the gorge is considered an easy route, so people come here even with children. And unlike most natural areas of Kyrgyzstan, it is impossible to get lost in the Alamedin Gorge.
Alamedin waterfall is very beautiful both in summer and in winter. At its foot there is a stunning view: in summer the waterfall is buried in greenery, and in winter it completely freezes in a cascade.
The highest point of the Alamedin Gorge is Usachenko Peak. It is located at an altitude of 4650 meters. Climbers usually climb it, but the most persistent tourists can also reach it.
In the gorge you can learn horse riding, see how the Kyrgyz national yurt is arranged, how to make kumis from mare's milk, and also breathe clean air. Both in winter and in summer there are stunning views, for which not only locals, but also tourists come. There are more people here on weekends than on weekdays, because the Alamedin Gorge is a favorite vacation spot of Bishkek residents.
Not far from the Alamedin Gorge – in the "Warm Keys" – there are radon springs. People come here to improve their health. Radon baths are recommended for people with sleep disorders, stress and diseases of the nervous system and musculoskeletal system. Just keep in mind that without prior consultation with a doctor, you should not plunge into this water.