Theaters of Kyrgyzstan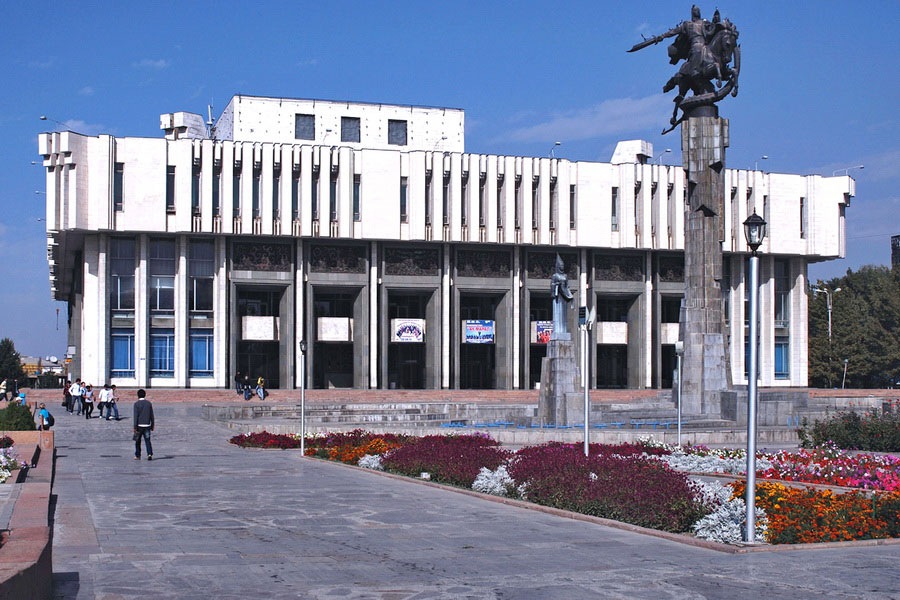 Though Kyrgyzstan might not be known as a center for performing arts, there are actually a number of famous writers and performers from the region. There is a thriving arts scene in Kyrgyzstan, with theaters and arts schools around the country. Students can study dance, performance, music and filmmaking, and there are performance spaces that regularly host productions.
The State Kyrgyz Opera and Ballet Theater was founded in 1926 as a training theater. The current building was built in 1955, and still holds regular performances to this day. Some notable performers include Abdylas Maldybaev, who helped write the State Anthem of the Kirghiz SSR, and for whom the theater is dedicated, and Bubusara Beyshenalieva, a prima ballerina and soloist who regularly performed both in the Soviet Union and abroad.
The oldest theater in Kyrgyzstan is actually the Osh State Academic Uzbek Music and Drama Theater, located in the city of Osh. Founded in 1914, the theater stages numerous theatrical and musical numbers in Uzbek and supports the development of theater and music in the region. Bishkek is also home to the Kyrgyz National Academic Drama Theater and to the State National Russian Drama Theater. Both of these theaters hold performances of plays written by local playwrights, as well as works translated into these languages.
In the center of Bishkek is the Kyrgyz National Philharmonic. In the square in front of the Philharmonic is a large statue of Manas, and surrounding him are busts of famous manaschi and akyns, in honor of Kyrgyzstan's long musical history. The Philharmonia itself is named after Toktogul Satylganov, another of Kyrgyzstan's most famous musicians and poets. Here one can hear performances by the best musicians from Kyrgyzstan and abroad.
Cinema has also played a large role in performing arts in Kyrgyzstan. Film production studios were late to come to Kyrgyzstan, though they became central as the main film studios in the Soviet Union were evacuated to Central Asia during World War II. Chingiz Aitmatov, Kyrgyzstan's most famous writer, had many of his short stories and novellas adapted for the screen. Tolumush Okeyev actively made films from the 1960s through the 1980s, and is most famous for his films that heavily featured the beauty and poetry of the Kyrgyz landscape. Aktan Abdykalykov also reached international fame with Beshkempir, a story about five grandmothers who adopt a young boy. Ruslan Akun is the most influential modern filmmaker, with films like Salam, New York and Herding winning awards both in Kyrgyzstan and abroad.