Kyrgyz Yurts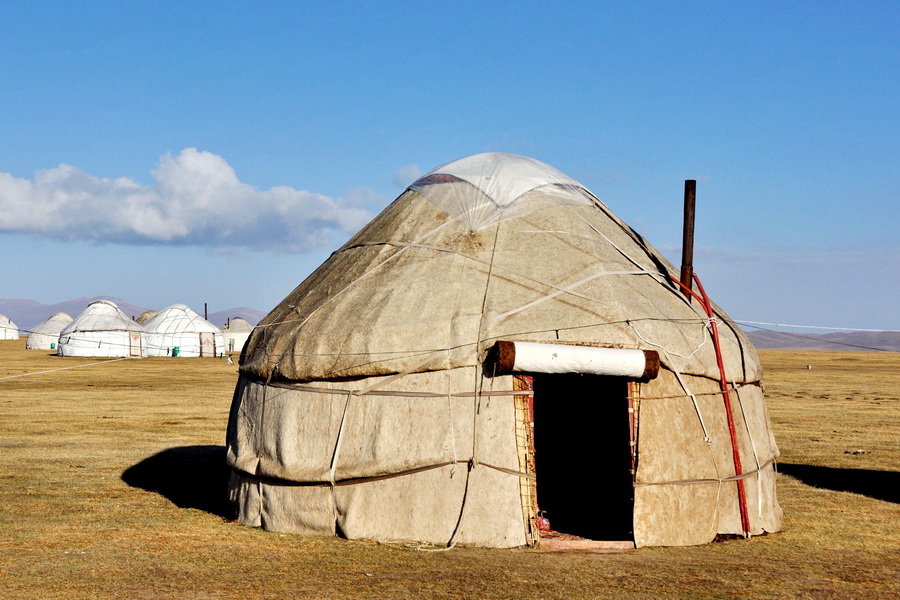 Yurts are one of the most essential parts of Kyrgyz culture, and are more than just houses. They represent the family, the earth, and the universe, and cover everything from birth to death. Yurts hold much of Kyrgyz culture, from important rituals and ceremonies, to craftsmanship and traditional artistry.
Yurts can be found across Eurasia, though with slightly different materials, dimensions or traditions. Kyrgyz yurts are made of a cupola birch poles tied to a latticework that forms the vertical walls. The outside is made of felt and wool, which is water repellent and warm, and can be easily patched as needed. The top of the yurt is a wooden circle, called a tunduk, which forms one of the most essential symbols of family and the universe. A small flap of felt covers the tunduk, which can be opened when weather is nice to let in light and fresh air, and closed when the weather is cold and wet. The tunduk is one of the most essential designs in Kyrgyzstan, and is used on the flag. The whole design of yurts was centered around being both portable and flexible, suitable for any season or location.
The center of the yurt held the fire, so that the smoke could escape out through the tunduk. Opposite the door were stacks of blankets that could be spread at night for sleeping. The walls were lined with reed mats, some of which had intricate patterns. Other textiles, including shyrdaks, embroideries, and other felt items decorated the yurt. Each item has a specific place, and a specific meaning to its designs. Many of these designs and ornaments came from nature, as the nomads lived closely with nature. Traditionally, the right side was reserved for women, and would hold dishes and cooking implements and items for sewing and knitting. The left side, the man's side, would hold harnesses and hunting knives, and everything necessary for herding and hunting.
Nowadays, kyrgyz yurts are not the main form of housing, as most people live in houses and apartments. Some people are still semi-nomadic, taking yurts and herds to the summer pastures during the warmer months. Visitors can stay in yurt camps, which are a comfortable way to experience Kyrgyz culture. Though in some places there might not be running water or electricity, yurts are the best way to experience the hospitality and warmth of Kyrgyz culture.