Kyrgyz carpets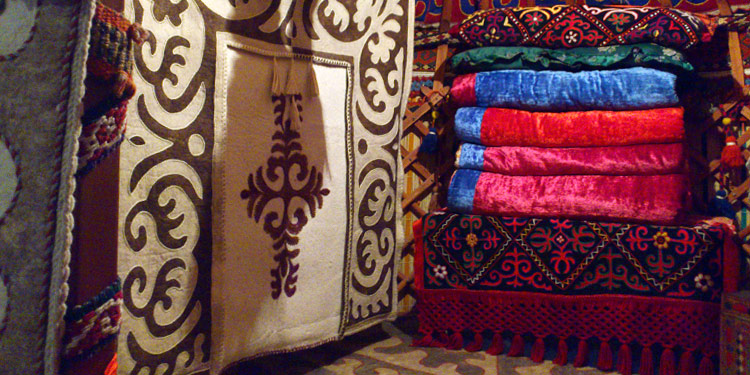 Carpet weaving in the material culture of all Central Asian peoples is of a special importance. It is a separate category of arts and crafts with its own customs and traditions. The carpet weaving is the art having its age-long history.
The artistic traditions of folk carpet craft are unusually high. Indeed, the carpet weaving was almost an exclusive means of satisfaction of the aesthetic needs for some stock-raising peoples of Central Asia. Many generations of Kirgiz weavers brought their vision and their talent in creation of different kinds of carpets which still exist and are of great demand nowadays.
The Kirgiz carpets are famous for their high quality. This is due to the subtility of artistic devices and techniques. Their virtuos techniques and artistic folk motives add an inimitable charm to Kirgiz carpet handiworks.
The carpet weaving traditions are characteristic for stock-raising nomadic peoples. This is due to the fact that carpets were of important significance in the culture of both the Kirgiz and other nomadic peoples. Since it was impossible to make home comfortable in the nomadic environment at that time and the nomads' yurts (nomadic tents) were just fitted with the most needed things, then indeed, the carpets added an appearance of a cozy dwelling to them and also protected them from cold. They served them as furniture and as fixtures to connect different parts of yurts and also as inner decoration. The yurts from outside were hung with a carpet curtain and the thresholds were covered with a small narrow rug. The yurt dirt floor was covered with soft and warm koshmas (felt carpets), palaces (pileless carpets) and carpets. Special carpet carryalls were used to keep different things.
For all stock-raising peoples of Central Asia carpets are an imprescriptible part of a girl's dowry. Ritually, the girl who came to her husband's family had to decorate the inner part of his yurt. Mothers had to give at least three carpets to their daughter as dowry, that is why it is a habit for the Kirgiz as well as other Central Asian peoples that the most skilful mistresses from the bride family are gathered to weave the carpets before the wedding day.
One cannot say that the carpets were only popular among the nomadic peoples. Urban people also decorated their houses with different carpet items, wooden furniture was not very popular in the East at that time, and carpets were the most needed things in their houses.
The Kirgiz did not develop the carpet business to a commercial level, they mainly weaved them for their own needs, but this situation changed in the XIX century and nowadays the Kirgiz carpets are acquiring wide vogue throughout the world. Among the most popular kinds of carpets are tush kyjiz, shirdak, piled rugs, kurak, chiy, ala-kyjiz.