New Year's Day in Russia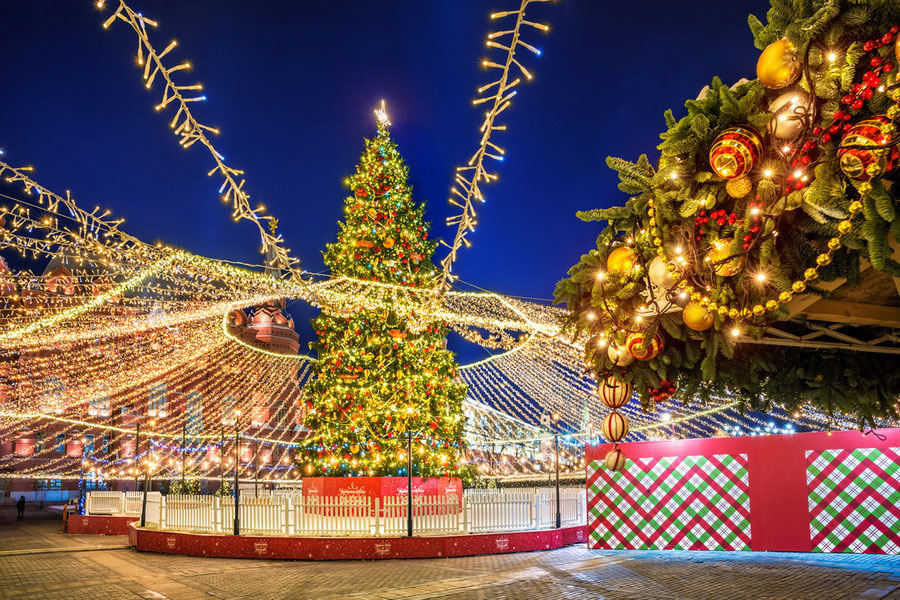 December 31 - January 01
There'll be no exaggeration to say that the New Year's Day in Russia is the most favorite holiday for both adults and children. For this reason is marked specially, the way only a Russian soul can do. And although the New Year's Day in Russia is considered a family holiday, when the closest relatives gather around a richly laid table, it is simply impossible to sit still at home in the most magical night of the year. Every Russian city and town alike comes alive for the New Year's Day. Main squares are decorated with furry spruces and lights, everywhere there is music, shots of crackers, fireworks, children's laughter, happy faces, even the snow underfoot crunches particularly musically... Especially bright and colorful celebrations are held in Moscow. A week before the festival the Cathedral Square of the Moscow Kremlin is decorated with a 30-foot spruce glimmering with millions of lights. A huge stage for the forthcoming show is placed on the Red Square. Above it - three large screens, which will broadcast the TV address of the President of Russia in real time. Well, now all is ready to meet guests. On the evening of December 31thousands of people flood the square to met the beginning of the New Year under the accompaniment of the Kremlin chimes and fireworks.
Exactly at midnight the sky over Moscow will flash with myriad of colored lights and the explosions of fireworks will shake the air! There comes the time for a glass of champagne and dearest wishes. By the way, even the most inveterate skeptics believe that even the most incredible wishes do come true on the New Year' Day...The holiday program in the Kremlin becomes more spectacular and more varied with each new year. In recent years, for example, it has become a tradition to organize performances of the bell ringers, playing music on real ancient Russian bells. After the chiming of the clock all people hurry to New Year's disco arranged on the Theater Square or to the ice rink near the GUM department store with a holiday buffet. The doors of cafes and restaurants are open for everyone; each of them offers own exclusive holiday show.
Staying in St. Petersburg on the night is also far from boring. There, the epicenter of festivities is the Palace Square, where Father Frost and his granddaughter arrive directly from Veliky Ustyug. The Palace Square is transformed into a unique stage complex, where you can see shows and listen to all music genres and styles performed by pop stars. After midnight the Spit of Vasilevsky Island becomes the place of grandiose fireworks show. The New Year's night in Russia is beautiful and young, drunken and saucy - the amazing spectacle that is worth seeing with your own eyes.