"Borodino" Panorama, Moscow Museums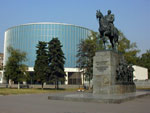 source: timeout.ru
In the center of Moscow, on Kutuzov Avenue, there is the historical and memorial complex dedicated to the Patriotic War of 1812, the center of which is the museum-panorama Battle of Borodino. This is the only museum in Russia displaying the details of 1812 war - from the invasion of Napoleon's army in June to its expulsion in December. The center of the museum is occupied by cylindrical drum-shaped columns made of glass and aluminum. Their height is about 23 meters and the diameter - 42 meters. Placed on the stone steps are trophy weapons. All these 68 cannons belonged to different European countries, whose troops were part of Napoleon's army. The museum also features the collection of paintings, graphics, weapons, and glass of the 19th century. The battle flags, weapons, ammunition and uniforms of the Russian army are displayed there as well. The museum complex was started in the late 19th century, when in 1883 the officers of the Grenadier Corps set a milestone from the Smolensk road on the site of the burned down house of the Military Council to commemorate the events of 1812. In 1912 Russia celebrated the centenary of the Patriotic War of 1812. Then the Archistratigus Michael chapel - museum was built in the honor of Mikhail Kutuzov and the museum-panorama Battle of Borodino, the centerpiece of which was the panorama Borodino created by Franz Roubaud, was opened. The huge canvas (115x15m) was placed inside a wooden pavilion on Chistoprudny Boulevard.
To mark the 150 anniversary of the war in 1962, the panorama was opened in a new building on Kutuzovsky Prospekt on the site of the village of Fili near Moscow. The place for the new museum was chosen not by accident: on Sept. 2, 1812 there, in the village of Fili (Moscow suburb) in the house of peasant Frolov the historic meeting of the Military Council, chaired by Kutuzov, where the decision of the capital's fate was adopted, took place. The atmosphere of the historical Council was created in the Kutuzovsky House in 1887. It was expanded, but the three windows on the facade and a dormer window in the attic are authentic. The main room has the Russian stove, the icon of the Smolensk Mother of God, the benches and the table, on which the map was unfolded very similar to the one used by the generals. Near the house stands the granite obelisk and the bronze bust of Mikhail Kutuzov.
The monument to the heroes of Patriotic War of 1812 installed in front of the museum in 1973 completed the museum complex.
Right on Kutuzovsky Prospekt between the Poklonnaya Hill and the Museum of the Battle of Borodino stands the majestic Triumphal Gate made to meet the nation's heroes there.