Triumphal Gate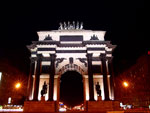 source: yarland.ru
Right on Kutuzovsky Prospekt between the Poklonnaya Hill and the Museum of the Battle of Borodino stands the majestic Triumphal Gate made to meet the nation's heroes there.
This marvelous building was indeed created in the honor of the winners and for the winners in the war of 1812 to commemorate the liberation of Russia from the French invaders. The idea of building Triumphal Gate in Moscow belonged to the Emperor Nicholas I. The solemn ceremony of the monument foundation laying took place on Aug. 17, 1829. The opening of the gate was held on Sept. 20, 1834, to mark the 20th anniversary of the War ending.
This majestic building was created by the architect Osip Bove in honor of the victory of Russia in the Patriotic War of 1812 and was originally installed in 1834 near Tverskaya Zastava, now the square of the Belorussky Train Station. In 1936, during the reconstruction of this square, the arch was dismantled. 30 years later it was restored and installed on Kutuzovsky Prospekt in 1968. The base of the Gate is a single-bay arch with six pairs of free-standing 12-meter horses. The Gate is crowned with sculpture of the Chariot of Glory. In the chariot stands the winged goddess of Victory holding a laurel wreath in her right hand. Standing among the columns the figures of warriors in ancient Russian armor and allegorical female figures above them symbolize Power and Victory. The walls of the Gate are lined with white stone. The total height of the structure is 28 meters. The main facade of the arch faces the field of Borodino and Poklonnaya Hill, on which on Oct. 2, 1812 Napoleon was vainly waiting for the delegation of Muscovites with the keys to the city. The Triumphal Gate is a compositional center of the Victory Square.