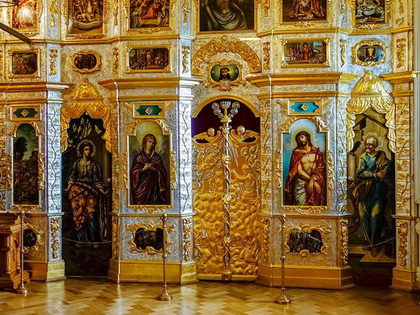 Istra's impressive New Jerusalem Monastery was founded in 1656 by his Holiness Nikon, Patriarch of Moscow and all Russia. Attracted by the natural beauty of the area, Patriarch Nixon decided to recreate the Holy Land near Moscow on the bank of the Istra River, surrounded by virgin forests and meadows. The heart of the monastery, the Cathedral of the Resurrection, was designed to resemble Jerusalem's Church of the Holy Sepulchre. The names of the surrounding places were changed to biblical ones, with the River Istra becoming the Jordan and the hill on which the monastery was built becoming Mount Zion. The Mount of Olives, Tabor Hill, and the Garden of Gethsemane were also established, and the so-called "Russian Palestine" was created. Join our 1-day Russia's "Holy Land" Tour to the New Jerusalem Monastery to discover this fascinating, spiritual place and enjoy the riverside scenery.
Tour Itinerary:
Day 1: Moscow – New Jerusalem Monastery (Istra) – Moscow
09:15 Meet your driver and tour leader at your hotel
09:30 Drive to Istra (70 km, 1h30)
11:00 Arrive in Istra and meet your local guide to take a sightseeing tour of this quiet town. Discover the wooden buildings of churches and manors, a kind of open-air Museum of ancient architecture
12:00 Arrive at the New Jerusalem Monastery, a grandiose centre of Orthodoxy built over two centuries by generations of outstanding architects and icon painters. Visit the Cathedral of the Resurrection, which boasts copies of Jerusalem's main shrines, including the Edicule and Stone of Anointing in the Church of the Holy Sepulchre, as well as Calvary. Free time to explore the monastery. You may wish to touch the Stone of Anointing and/or visit the Cave Church.
14:30 Lunch in Istra
15:30 Free time
17:00 Take a walk around the Garden of Gethsemane. Admire the picturesque scenery, including the cedar grove, pine trees, various types of deciduous trees, and the Kedronsky stream.
18:00 Return to Moscow (72 km, 1h35).
19:35 Arrive at the hotel. End of the tour.
Tour duration: 10 hours
RECOMMENDATIONS: Bring comfortable footwear and clothing suitable for the weather. Please note: when visiting Orthodox churches, men must take off their hats while women must cover their heads. We therefore recommend that ladies wishing to visit churches bring along a headscarf.
Price includes:
All transfers (1-2 pax by sedan type car, 3-7 pax by minivan, 8-13 pax by 30 seat bus, 14+ pax by 40-50 seat bus);
Tour Leader (guide) to accompany the travellers for the whole tour;
Sightseeing tour programme with a local guide and translation into English;
Entrance tickets to sights as per itinerary;
Lunch.
Price does not include:
Additional services during the tour;
Souvenirs;
Tips/gratuities for guides and drivers (although these would be appreciated).