Turkmenistan - Reserves and Resorts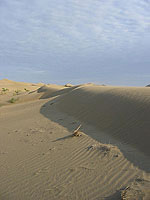 Turkmenistan has several major reserves: Badkhyz, Repetek, Krasnovodsky and Kugitang. Ther is also a considerable number of resorts: climatic health resorts Firyuza and Bairam-Ali; balneological - Archman and Mollakara. They provide efficient treatment and prophylactics of many diseases.

Balneological sanatorium "Turkmenbashi" is in the southeast part of Turkmenistan in Bairamali (360 km from Ashgabat). It is a great place for people with kidneys and heart problems. Mollagara resort is a unique balneary in the west of Turkmenistan.

"Archman" is a climatic-balneological resort in the foothills of Kopet Dagh (130 km from Ashgabat). This place has been known for its radonic mineral waters.

Near Ashgabat in a mountain gorge are located recreational areas Archabil and Gokdere where you can experience mountain climbing, horse-riding and picnics.