Turkmenistan Nature

Turkmenistan nature includes thousands of species of plants, ranging from desert grasses and saksauls to mountain forests. The fauna is presented with the species of 91 mammals, 372 birds, 74 reptiles and 60 fishes. While flora and fauna are poorly represented in the desert, then the mountain river valleys are true wealth of Turkmenistan nature. All this wealth is protected by the Badkyz, Krasnodar and Repetek Reserves.
The Turkmenistan climate is sharp continental. Daytime temperatures are very different: the average temperature in July of +30-32°С lowers to -5°С in winter. The average annual rainfall varies from 80 mm in the deserts to 400 mm in the mountains. At the same time the plains feature frequent hot winds and dust storms.
Turkmenistan nature calls tourists with its unique attractions: tremendous flora - forests of wild fruit and nut trees, juniper forests on mountain slopes, pistachio savanna forests, saxaul forests, flood-plain tugais; diverse fauna - Central Asian leopards, argalis, koulans, goitered gazelles; enchanting sceneries - from picturesque mountain ridges to lifeless desert sands, from green oases to multikilometer sea coast.
Caves
Turkmenistan is famous for its caves. The most known of them are the Karlyuk caves. They are located on the slope of Kugitangtau Ridge and are considered unique natural sanctuaries, the are equal to none in entire Eurasia;they are by right included in the List of the World Legacy of UNESCO. Read more...
Lakes and Springs
Lake Sarakamysh is the largest lake of Turkmenistan. Its area exceeds 2, 200 km. Sarakamysh natural reserve was made for protection of water fowl - pelicans, cormorants and coots. The well-known Bakharden Cave hosts an underground Lake Kow-Ata. Read more...
Mountains
The Kughinang Mountains with the highest peak of Turkmenistan - Airibaba (3,137m). The Bolsoi (Big) Balkan is a mountain range in the Kara Kum Desert. There archeologists found the human remains of the Stone Age. Read more...
Volcanos
In the west of Turkmenistan there are about 30 mud volcanoes. They are of various forms and exteriors. Periodically they throw up a mixture of mud masses, gases, waters and oil on the surface. The biggest volcano is called Aligul (extinct). The most ancient is the Boyadag mud volcano. Read more...
Depressions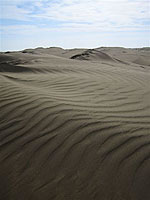 Yueroilan-duz is a deep drainless depression (total area 300 square km). During ancient times this place was occupied by the huge Tetis Sea. This unique depression was formed on the place of the volcanic centers which used to be active on the sea bottom. The dome-shaped and slightly extended hills representing extinct volcanoes conduits are fancifully scattered; between the hills there are solonchaks where table salt was mined. The beautiful andesite-basalt formations and weathered volcanic pillars tower there. Read more...
Tracts and Gorges
Kyrkdzhulby is a tract in the Kara Kum Desert. Its special beauty is created by high steep barchans and bright - reddish - ground shade. Read more...
Kara Kum Desert
Barchans the Kara Kum sands occupy 7 % of flat territories and are a characteristic form of sandy relief. They occur in places lacking of vegetation. Read more...
Plains and Plateaus
Missirian Plain. The remains of large ancient irrigated areas with traces of ancient irrigational structures have survived there. Read more...
Flora
Flora of Turkmenistan is made of relic forests, subtropics with a set of rare plants, picturesque nooks with preserved centuries-old vegetation. Read more...
Reserves and Resorts
Turkmenistan has several major reserves: Badkhyz, Repetek, Krasnovodsky and Kugitang. Ther is also a considerable number of resorts: climatic health resorts Firyuza and Bairam-Ali; balneological - Archman and Mollakara. They provide efficient treatment and prophylactics of many diseases. Read more...