Uzbekistan Lakes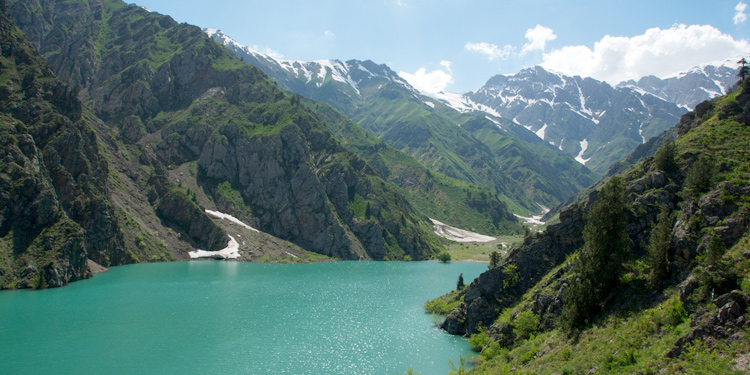 Uzbekistan having no access to the sea still has several large lakes, including the Aral Sea and Aydarkul in its territory. Besides, some rivers have artificial reservoirs; the most famous among them Charvak is a popular summer getaway for Tashkent residents. Along with them the whole system of Uzbek lakes also includes picturesque mountain lakes, many of which are located in hard-to-reach places.
Over the last half-century, the Aral Sea, fed by the Amu Darya and Syr Darya has been receiving much less water due to intensive irrigation and is now on the verge of extinction. The former lake bottom has already become the so-called Aralkum desert. Meanwhile Lake Aydakul, just the opposite, was formed as late as 1969, due to the abundance of water in the Syr Darya, which in its middle reaches threatened to destroy the Chardarya reservoir dam. At long last, the excess water was directed to Arnasay lowlands, which few years later was completely filled with water and turned into one of the most beautiful places on the edge of the Kyzyl Kum desert.
The Uzbek lakes are used for fishing and beach holidays. The Aral Sea, whose water is gone from the Muynak port for a hundred kilometers away, cannot boast fish crops and water sports, but it is possible to see the effects of man-made disaster in the form of a "cemetery of ships" there and make a tour to the present lakesides. The Aydarkul, located far from major cities is also unpopular among the people of Uzbekistan, but there you can have a good rest, enjoying the nature of the desert away from busy urban life. In the autumn the lake becomes a major intermediate stopping place for migratory birds.
The Charvak reservoir, surrounded by Chatkal Mountains, perhaps, is the most famous resort in the vicinity of Tashkent. There are dozens of recreation areas, children's camps, private cottages and beaches. This artificial lake was formed thanks to the dam, built in 1970. Moreover just a short distance away, there is Greater Chimgan with a lot of recreation areas too.