Ethnic Tourism in Uzbekistan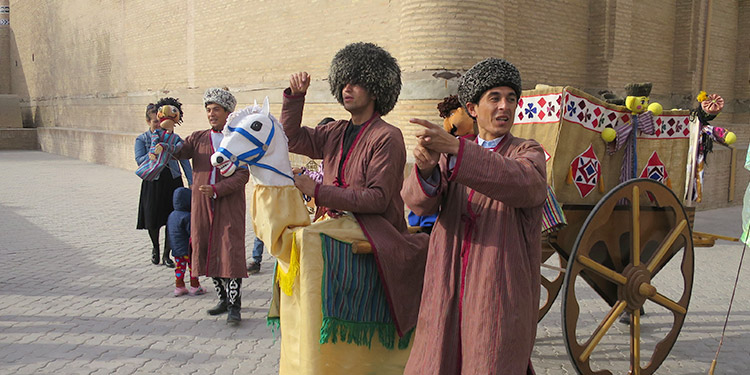 Street Actors in Khiva
Ethnic tourism in Uzbekistan embraces one of the most fascinating types of travel, for what characterizes a land more vibrantly than its unique ethnic flavor? As you encounter a national heritage which has been developing for centuries, you will discover ancient traditions which are still prevalent in modern life.
Every life event in Uzbekistan, from birthdays to engagement parties, weddings to funerals, is tinctured with colorful rituals filled with the rhythms of the people's ancestors. What makes ethnic tourism in Uzbekistan so amazing and unforgettable is that locals are naturally hospitable and willing to welcome you into their lives and customs. The people of Uzbekistan are known to invite foreign guests to their celebrations at a moment's notice and are often eager to acquaint visitors with their customs and traditions, national dress, folk songs and dances. It goes without saying that at gatherings large or small, you will have the opportunity to taste national cuisine, with irresistible Uzbek pilaf, savory samsa pastries, soups, and manti dumplings being among the favorites.
Uzbekistan's handicrafts leave a vivid impression, for Uzbek craftsmen are second to none. Fine lacquer miniatures, filigree jewelry, intricate national embroideries, carpets, original ceramics and natural silk products are among the many colorful, handcrafted souvenirs available at bazaars and shops throughout the country.
An array of ethnic festivals, exhibitions and fairs showcase the wealth and beauty of Uzbek culture and are quite the sight to behold! One of the largest events is a festival called Boysun Bahori, which is held every spring in the small mountain town of Boysun in Surkhandaryo Region. The area is famous for its unbelievable beauty and pristine surroundings. Most ethnic festivals in Uzbekistan can last for several days and may include folk groups from around the world and local dancers, singers, bahshas (narrators), craftsmen and cooks.
Join us as for ethnic tourism in Uzbekistan as we traverse the country to interact with ordinary people and learning about their lifestyle, customs, traditions, folklore, cuisine, applied arts and more!