Svetitskhovloba in Georgia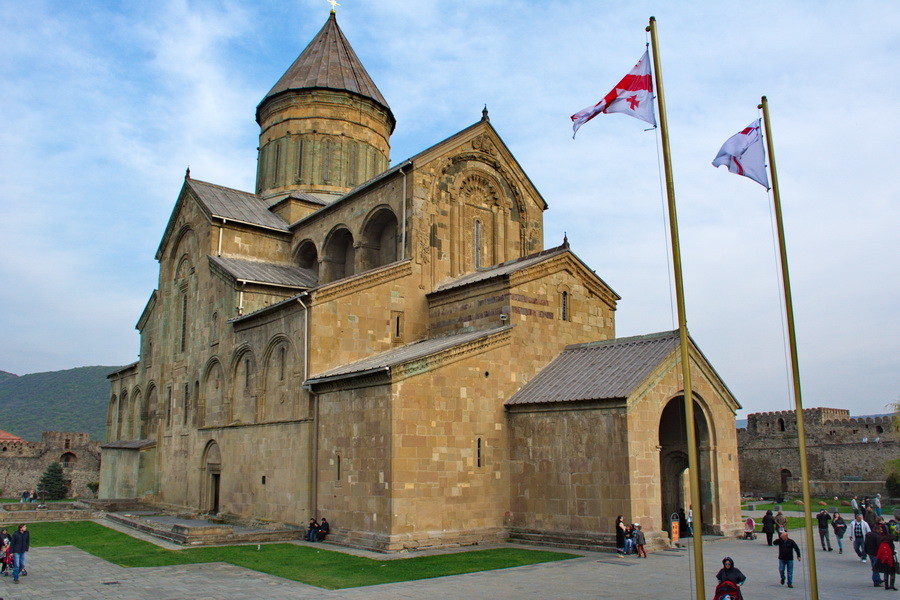 October 14
Svetitskhovloba in Georgia, also known as Mtskhetoba, takes place in Mtskheta, one of the oldest cities in Georgia and its former capital. An official day off in Georgia, Svetitskhovloba commemorates the country's ancient capital city and its historic church, Svetitskhoveli Cathedral.
Legend has it that St. Nino, the woman who introduced Christianity to Georgia, chose the confluence of the Mtkvari (Kura) and Aragvi Rivers as the site for the first Georgian church. Although the original building was destroyed during one of many wars which plagued the region, the current Svetitskhoveli Cathedral was built in the first half of the 11th century under directive of Melchizedek I, the first Catholicos-Patriarch of All Georgia.
Svetitskhoveli Cathedral is believed to be the burial site of the chiton, the robe in which Jesus was crucified. A Georgian Jew from Mtskheta was said to have bought the robe from a Roman soldier after Jesus' death and brought it to Georgia. Upon arrival, he met his sister Sidonia, who upon touching the robe died instantly from her strong emotional reaction. As no one could pull the chiton out of her grasp, it was buried along with Sidonia where Svetitskhoveli Cathedral now stands.
Svetitskhoveli is a part of Historical Monuments of Mtskheta, a UNESCO World Heritage Site to which thousands of pilgrims and tourists flock annually to pay homage to its history and sacral importance. During Svetitskhovloba in Georgia, the Catholicos-Patriarch of All Georgia conducts a special ceremony and a mass baptism. At a series of concerts and cultural performances held on this Georgian national holiday, people don traditional costumes to dance, sing and enjoy delicious Georgian cuisine. Festivities last the whole day and are an excellent way to learn more about the traditions and culture of Mtskheta.