Kakheti, Georgia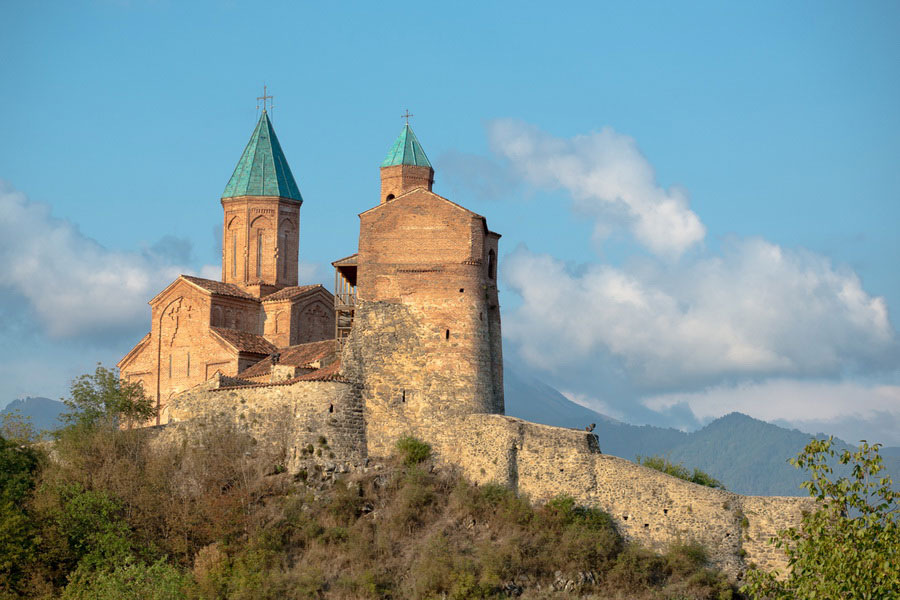 Tours, Attractions and Things To Do in Kakheti
Kakheti Travel Guide
If you're looking for a place that has beautiful mountains, lakes, waterfalls and wineries, gorgeous landscapes, cave monasteries and history on every corner, delicious food and locals who treat every guest as if he were an angel, look no further than Kakheti.
Set to the east of the capital Tbilisi, it expands for 11.3 square kilometers and you could easily spend a week travelling around it. Some of the main attractions can be reached in about 2 hours by car.
If you are familiar with Georgian wine, you have likely heard of Kakheti Region. The nation's foremost wine region, it produces nearly three-quarters of the country's wine grapes, which are grown on land that has been dedicated to viticulture for thousands of years.
Kakheti is well-known not only for its wine, but also for the hardworking, joyful, and good-natured people who live there. Kakhetians are an ethnographic subgroup of Georgians concentrated primarily in Kakheti Region. Around half a million Kakhetians are currently living in Kakheti, the vast majority of whom speak the Kakhetian dialect of Georgian and who identify as Orthodox Christians.
When to go
Kakheti enjoys a moderate climate similar to that in the south of France. Summer temperatures hover around +30, Autumn enjoys mild +25 to +15 from September to November, winters get a bit colder and at times misty with around 0 to +8. Spring is also pleasant from +15 to +20. The best time to go is on a sunny day, April-June or September-October if you don't like to be too hot. Autumn is beautiful with the leaves putting on bright colors and fun at the time of rtveli - grape harvesting and wine-making – you can make some yourself in from mid-September to mid-October.
Where to go
Tusheti
If you're up for a real adventure, you could start by taking a helicopter to the gorgeous mountains of Tusheti (driving is possible, but only from May to mid-October and only in a 4WD)– the air, mountain flowers and rivers, stone towers and the vistas will take you to a pure, beautiful and back-to-the basics reality which will make you forget about your smart phone. This is a hard-to-reach, remote and truly fascinating part of the world. Even the locals only live there in the summer, but they'll gladly host you and put on a "supra" (Georgian feast) for you.
Telavi
If you're looking for something less adventurous, take the scenic drive to Telavi (especially beautiful in Autumn when you drive a windy road with dark-red leaves all around you) and spend a couple of days exploring the local wineries Khareba has great varieties of saperavi some of which have won international competitions, Chelti has also won competitions in Hong Kong and does wonderful European style and qvevri wines) – all set in Tuscany-like scenery, overlooking the Alazani valley and Caucasus mountains. The drive from Akhmeta to Lagodekhi will get you drunk on the wine and the views, but save space on the camera for the national park of Lagodekhi. This national park can be reached from Tbilisi in about 2.5 hours and has stunning waterfalls and lakes to admire. You can walk along the treks; expect to spend at least 5 hours walking to see the waterfalls and wandering around and taking it all in.
Sighnaghi
Probably the best-known part of the region is Sighnaghi – Italian-style town tucked in the middle of green hills overlooking Alazani valley. it was built in the 18th century and recently renovated. Cobbled-streets, carved balconies, a piazza, a wall that stretches for 4.5 kilometers alongside small mountain ridges – it's the perfect setting for a glass of local saperavi. Signagi is also called "the city of love" – you can get married there any time of day.
Just 2 kilometers from Signagi is Bodbe monastery - a place of beauty and tranquility, where St.Nino, who brought Christianity to Georgia in the 4th century, is buried.
David Gareja
Driving from Tbilisi to David Gareja (just under 2 hours), you will see a completely different side of Kakheti – the steppe, red stone ridges and eagles will make you feel like you're exploring a different country all together. David Gareji is a cave monastery complex, which still houses a few monks, was built in the 6th century. It consists of a lower and upper part. The lower part is easily accessible with a church, caves and beautiful views of red rocks around. The upper part is about a 40-60 minute hike up the mountain, but you'll be rewarded with views over Azerbaijan and frescos from the 9th to the 14th century in caves.
Vashlovani
Vashlovani is one of the protected areas of Georgia which is often referred to as "Georgian Africa" because of its mud volcanoes, the semi-dessert vegetation and steppe and floodplain forest. It's also home to cliffs-of-the-canyons, known in the area as the "Sharp Walls".
You can spend 1 or a few days hiking around the trails, which have bungalows, picnic spots and camping sites along the way.
Kakheti travel guide won't be complete without mentioning that it is also the cradle of wine. Wine-making tradition here dates back to 6000 BC. The traditional method of making wine – in clay pots called qvevri – is still used and makes very unique flavored wines. The art of making qvevri is passed down generations and is UNESCO heritage. Today Kakheti wine-makers use both the traditional and European methods of making wine and have a fascinating variety which is getting noticed on the international wine market – Georgian orange wines have been recommended by the Washington Post and many wines have won international competitions.
Today, more than 70% of Georgian wine is produced in Kakheti, making it the nation's leading winemaking region. Approximately 80 different grape varieties are found in Kakheti, the most well-known ones being Rkatsiteli, Saperavi, Mtsvane Kakhuri, Khihvi and Kisi. It should also be mentioned that 18 out of 24 Georgian wine PDOs (Protected Designations of Origin) are located in Kakheti.
The main red variety is Saperavi - a grape variety grown in different regions, and in some of them, like Napareuli, Mukuzani and Kindzmarauli the name is protected according to the area in which the wine is made (i.e. a wine can be called Napareuli only if it was made in Napareuli).
The main white varieties are Rkatsiteli, which, like Saperavi is grown in some areas which protect the name, like Tsinandali, and other grape varieties such as Mtsvane, Kisi and Tsitska.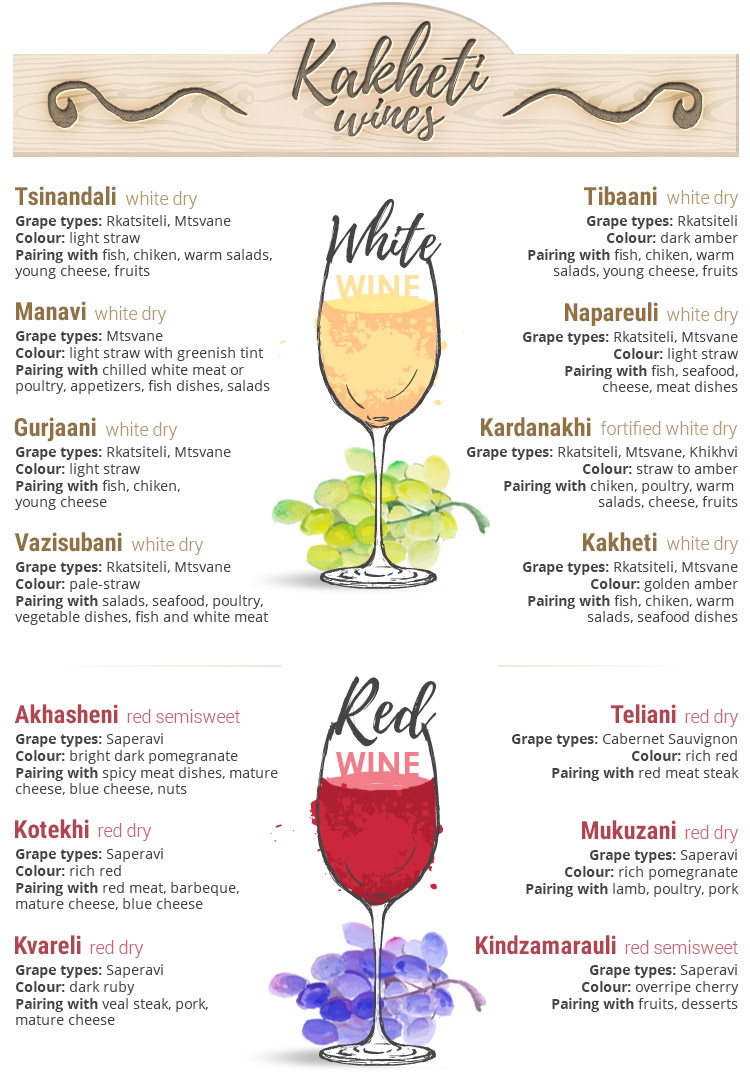 A glass (or a few) of local wine will make any type of Kakheti experience and even more enjoyable one. And with the variety of activities and sights, Kakheti has something to offer for anyone.
Rtveli is held every September and is one of the most important rural harvest holidays in Georgia. As mentioned above, Kakheti wine and winemaking play a huge role in the lives of Kakhetian people. Rtveli, rumored to be almost as old as Georgia itself, is a very significant and joyful event in which nearly everyone participates. Nowhere is it celebrated more exuberantly than in Kakheti wine region, where the Kakhetians observe every aspect of the holiday, from grape picking to squeezing the grapes in the winepress and celebrating a long day of hard work with a traditional feast alongside extended family and friends.
The cuisine of Kakheti Region in Georgia is simple, tasty and satisfying, marked by an abundance of roasted and boiled meats and plain salads. Some of the most notable Kakheti dishes include:
Mtsvadi (barbeque) - skewered and grilled cubes of meat, of which Kakhetians usually prefer pork.
Chakapuli - a soup made of fresh herbs such as tarragon, onion and coriander, and meat of sheep or lamb.
Khashlama – boiled beef or lamb.
It is impossible not to mention Kakhetian shoti, a type of bread made in a tone, a deep circular oven whose inner walls serve as a baking surface. The bread has a long, semilunar shape and crispy edges. Kakhetian shoti and Guda cheese is a superb combination and is often served as a snack before the main course.
Not surprisingly, Kakhetians use grapes to make their desserts. Churchkhela, a Georgian candy made from natural grape juice and various kinds of nuts, is very famous across Georgia and abroad. Pelamushi, a flour-based porridge with pressed, condensed grape juice, is usually made in autumn during the grape harvest.
Kakhetian Music
Kakhetians are well-known not only for their flavorful cuisine and exquisite wines but also their polyphonic table songs. They usually feature a long drone bass with two soloists singing the two primary parts.
The most famous example of a Kakhetian-style polyphonic choral folk song is the patriotic "Chakrulo", which was chosen to accompany the Voyager Spacecraft in 1977. This three-part drinking song, hailing from Kakheti Region, dramatizes preparations for battle.
The traditional Georgian supra feast takes on new life in Kakheti as it overflows with toasts, anecdotes and table songs. These feasts, punctured with collective singing and hosted by a tamada (toastmaster and head of table), are considered by Kakhetians to be a major component of their identity.
Kakheti has a long turbulent history of being part of Kartli-Iberia, independent, ruled by Iran, Georgia, the Mongols, Persia, Russia, Turks and finally becoming part of Georgia. You can see traces of the history in the architecture of some of the sights: the curved balconies in Signagi, the Tsinandali estate which looks was built in European tradition but with Persian-influenced balconies, yet hosted some of Russia's most prominent writers.
Discover Kakheti
A trip to Kakheti is highly recommended for anyone visiting the Caucasus. Travel from Kakheti to Tbilisi, the Georgian capital, takes around 1.5 hours by car and is marked with scenic views. There are numerous places to visit in Kakheti, including the beautiful city of Telavi, Kakheti's cultural and administrative center, and Sighnaghi, otherwise known as the City of Love. The gardens of Tsinandali Estate, gloomy Gremi Castle and Alaverdi Cathedral invite you to feel like a Georgian for a day, while Kakhetian hospitality extended in family wineries will likely be as sweet as the wine itself.